Ebola & Marburg | NIH: National Institute of Allergy and Infectious Diseases
05/14/2018 03:11 PM EDT
Source: National Institute of Allergy and Infectious Diseases -
Related MedlinePlus Pages:
Ebola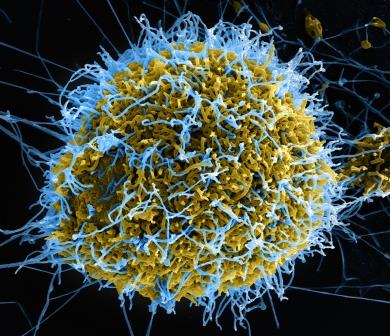 Credit:
NIAID
Ebola and Marburg hemorrhagic fevers are acute viral diseases that often lead to severe illness and death in humans and other primates. The infections typically affect multiple organs in the body and are often accompanied by hemorrhage (bleeding). Once the virus has been transmitted from an animal host to a human, it can then spread through person-to-person contact.
Why Is the Study of Ebola & Marburg a Priority for NIAID?
Marburg hemorrhagic fever was first recognized in 1967, when laboratory workers in Germany and Yugoslavia developed a hemorrhagic illness after handling tissue from green monkeys. The outbreak resulted in 31 infections and 7 deaths. Researchers later identified the cause as a never-before-seen filovirus, termed "Marburg" after one of the outbreak locations.
Eleven years later, Ebola virus was identified when two outbreaks of hemorrhagic fever occurred in northern Zaire (now the Democratic Republic of Congo) and southern Sudan. The causes of the outbreaks were identified as two different species of another novel filovirus, called "Ebola" after a river in northern Zaire. Both species proved to be highly lethal, as 90 percent of the Zairian cases and 50 percent of the Sudanese cases resulted in death.
How Is NIAID Addressing This Critical Topic?
NIAID researchers and NIAID-supported scientists at external institutions are studying many aspects of the Ebola and Marburg viruses and how they cause disease. This includes seeking better ways to diagnose and treat Ebola virus disease and Marburg fevers and using applied research to develop vaccines, treatments, and diagnostics.