Fetal Alcohol Spectrum Disorders FASD Treatments

Fetal Alcohol Spectrum Disorders FASD Treatments
Fetal alcohol spectrum disorders (FASD) is a congenital syndrome that emerges in the human fetus as a result of alcohol consumption by pregnant women during their maternity period. These defects comprise several chronic mental, behavioral, physical, and learning difficulties. Around 40,000 infants are born affected with FASD.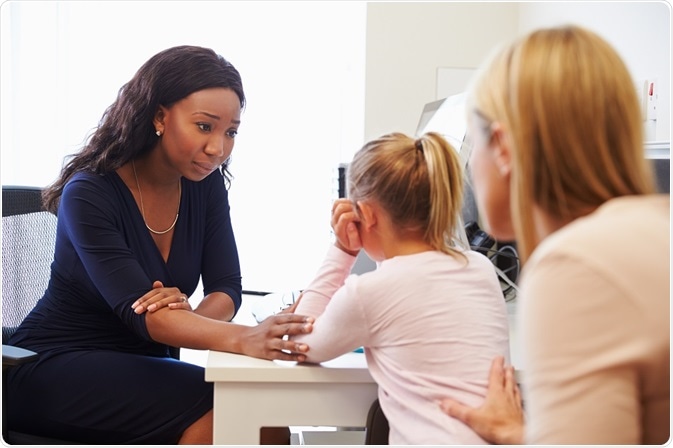 Credit: Monkey Business Images/ Shutterstock.com
This syndrome also accounts for the occurrence of growth problems and brain injury in newborns. These problems may differ in every individual child, but are irreversible. However, various treatment options are available for decreasing the severity of the defects and the disease management.
Following are the treatment types that are available for FASD affected children:
General medical care
Children with or without FASDs possess the same medical and health requirements such as vaccination, exercise, good nutrition, hygiene, good baby care, and basic medical care. However, FASD affected children are subjected to continuous observation and they are treated either by a known physician or specialists.
Treatments necessitated by every individual vary, depending upon the symptoms developed by them as a result of FASD. Various specialists involved in corresponding treatments are plastic surgeons, immunologists, dysmorphologists, otolaryngologists, primary care providers, endocrinologists, opthalmologists, physical therapists, geneticists, gastroenterologists, neurologists, speech-language pathologists, mental health professionals, occupational therapists, audiologists, and nutritionists.
Medication
There are no approved medicines or pharmaceutical drugs for the treatment of this syndrome. However, the severities of few FASD symptoms can be reduced with the help of several drugs. These symptoms include depression, lack of focus, and high energy levels.
Stimulants: Stimulants are also known as Uppers that temporarily improve the level of physiological activities. These drugs are utilized in the treatment of symptoms such as impulse control disorder, lack of focus, hyperactivity disorder, and other behavior disruptive disorders.
Antidepressants: These medications are mainly involved in the treatment of major depressive disorders or in the prevention of recurrences. Symptoms like sleep disorders, school disruption, loss of interest, aggression, sad mood, irritability, negativity, and anti-social behaviors can be treated with help of antidepressants.
Neuroleptics: These are also known as antipsychotics or major tranquillizers. People with mental health conditions like schizophrenia are treated via this medication. Psychological and behavioral symptoms like hallucinations or aggression, and dementia are also treated with neuroleptics.
Anti-anxiety drugs: These drugs are utilized to provide peace and relaxation to those with immense nervousness, anxiety, and certain phobias.
Behavior and Education Therapy
The most important part in the treatment of children affected with FASDs is education and behavior therapy. Although various therapies are followed for treating developmental disabilities in children, only a few procedures are scientifically authorized, particularly in the recovery of FASDs affected children.
Friendship training for children: Children with FASDs face huge difficulty in learning appropriate social skills that are typically involved in dealing with problems, proper sharing, and individual involvement in a group. By providing necessary training, they are taught with proper social skills.
Families moving forward (FMF) program: This program offers support to the families associated with children having a challenging behavior of FASD. Services in these programs are generally offered by specialized physiological professionals.
Math interactive learning experience (MILE) program: This program is designed for improving the mathematical knowledge and problem solving ability in FASD affected children. The training also helps parents gain enough knowledge about the behavioral regulation techniques in order to improve their children's ability of easy learning.
Parents and children together (PACT): This is a neurocognitive habilitation program for improving the executive functioning and self-regulationin syndrome affected children. This program offers training for both children and parents; children are trained to help themselves in gaining knowledge on their current behavior status, improve their behavior regulation and to perform certain functions such as organizing, planning, and understanding. Parents are trained with skills and behaviors to assist and support their children's life.
Parent training
FASD affected children may fail to react to routine parenting methods. Parents are therefore educated about their children's disabilities via various parent training programs. These programs offer the parents ways by which they can enhance the skill sets of their children and to overcome their complications of FASD. Parent training can be carried out either in families or in groups.
Although every child has unique variations, the following parenting tips might be useful and beneficial.
Be exact in what you want to convey.
Practice only a specific language.
Accept the child's disability.
Concentrate on the strengths and talents of the child.
Use fixed routines which are not to be changed daily.
Use music, visual aids, and hands-on activities to improve the child's learning ability.
Alternative approaches
There are few alternative therapies that are offered for both children and adults affected with such disabilities. These treatments include animal-assisted therapy, biofeedback, creative art therapy, auditory training, yoga, exercise, massage, energy healing, reiki, herbal supplements, vitamins, acupuncture, visual imagery, relaxation therapy, and acupressure.
Reviewed by Afsaneh Khetrapal Bsc (Hons)
Further Reading
Further Reading
Last Updated: Jan 19, 2018