Antioxidant Properties of Coffee

Antioxidant Properties of Coffee
Caffeine
Caffeine is a naturally occurring stimulant, which affects the central nervous system by binding to adenosine receptors, blocking adenosine from slowing the cells' activity. It is present in the leaves, seeds, or fruit of more than 60 plant species, including coffee beans, tea leaves, cacao beans and yerbe mate leaves.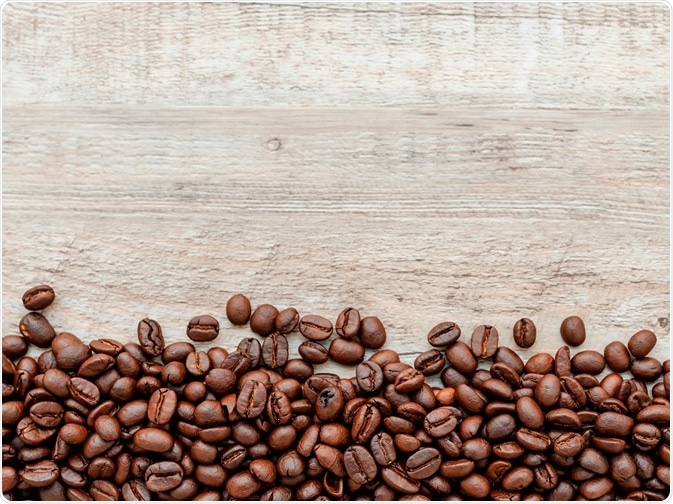 Credit: Anucha Tiemsom/ Shutterstock.com
Plants produce caffeine as a pesticide, but it is taken daily by billions in the form of coffee, tea and chocolate to alleviate fatigue, increase alertness and improve concentration. It is also added to some over-the-counter medications as an energy boost to counter fatigue brought on by illness and promote the effect of analgesics. Consequently, it is the most commonly used drug in the world.
Caffeine is also classified as a foodstuff and is regularly added to a range of snacks including gum, jelly beans, waffles, and marshmallows. There are also soft drinks with high caffeine levels marketed as an instant remedy for drowsiness and mental fatigue.
Is caffeine good for you?
Caffeine is renowned for both positive and negative effects on health. However, a maximum daily intake of 400 mg a day (about 4 or 5 cups of coffee) is not thought to have any negative effects
1
.
Caffeine is known to have a high radical scavenging activity, but also affects the cardiovascular system and central nervous system. Consequently, it has been widely investigated to determine whether these effects are beneficial or detrimental to health. There have been numerous claims and news items regarding the effects of caffeine, but not all are supported by robust scientific data.
Claims relating to the benefit of taking caffeine include appetite suppression and promotion of weight loss, improved athletic performance, reduced risk of decline in mental capacity, reduced risk of developing Alzheimer's disease, Parkinson's disease, heart disease, certain cancers (e.g., oral, endometrial, prostate), stroke and diabetes
1
.
Conversely, it has also been reported that high caffeine intake can worsen the symptoms of depression and anxiety, cause or aggravate insomnia, be detrimental to an unborn fetus, cause headaches, stomach upsets and high blood pressure and lead to abuse and dependence
1
.
Antioxidant properties of coffee
It is well known that excessive accumulation of free radicals, such as the alkyl-oxy radical, hydroxyl radical and superoxide anion cause significant damage to the human body resulting in numerous diseases and premature aging
2
.
Free radicals oxidize blood vessel walls, protein molecules, DNA, carbohydrates, and membrane lipids, changing the way cells interact with their environment and reproduce. Such damage is collectively referred to as oxidative stress.
Ongoing oxidative stress is associated with an increased risk of developing diseases such as cardiovascular diseases, cancer, and diabetes. To minimize this risk a diet high in natural antioxidants, such as, honey, vegetable oils, berries, fruits and vegetables, is recommended
3
.
Coffee is one of the major sources of antioxidants in many peoples' daily diet and the beneficial health effects of coffee are usually attributed to its high antioxidant activity. The level of antioxidant activity of coffee varies markedly by variety, as well as differences in roasting and extraction procedures.
Three standard processes have been proposed to determine the antioxidant activity of foods: oxygen radical absorbance capacity; Trolox equivalent antioxidant capacity; and Folin-Ciocalteu gallic acid equivalence.
Each of these methods measures the effect on the degree of oxidation rather than antioxidant activity directly. Furthermore, there are multiple variable parameters, such as time, temperature, nature of the substance, concentration of the antioxidants, and so the different methods often give conflicting results.
Electron spin resonance (ESR) spectroscopy has proved an effective means of directly determining the level of free radicals in food
4
. However, the free radical scavenging activity of coffee had not been evaluated using this technique.
In the most recent study, researchers have evaluated the hydroxyl and alkyl-oxy radical scavenging activity of instant coffee extracts using the ESR spin trapping method
5
. Hydroxyl and alkyl-oxy radicals were generated to a high degree of purity by illuminating a phosphate buffer solution containing hydrogen peroxide and 2,2'-azobis(2-amidinopropane) dihydrochloride with a Hg-Xe arc lamp.
Samples of four types of instant coffee that are commercially available in Japan were dissolved in hot water according to the manufacturer's instructions. Two gram samples dissolved into 140mL of hot water was considered 1 unit, while samples were prepared at 0.25 units to 4 units. These were added to a phosphate solution that contained hydroxyl and alkyl-oxy radicals.
Antioxidant activity was measured using a Bruker X-band ESR spectrometer (EMX-Plus) equipped with 100 kHz field modulation. The ESR analysis found that a unit of instant coffee had an average radical scavenging capacity that was around 20 times greater than that measured for blueberries using the same analysis technique
5
. The level of antioxidant potential increased proportionally with increasing concentration of coffee until saturation was reached.
Interestingly, a comparison of antioxidant potential between the different brands of instant coffee revealed that antioxidant capacity increased with increasing cost of the coffee. This suggests that higher quality coffee beans provide better free radical scavenging. This study confirms that instant coffee has very high hydroxyl and alkyl-oxy radical scavenging activity.
References
Cappelletti S, et al. Caffeine: Cognitive and Physical Performance Enhancer or Psychoactive Drug? Curr Neuropharmacol. 2015;13(1):71–88.
Harman D. Aging: Minimizing free radical damage. J. Anti-Aging Med. 1999;2:15–36.
Sies H. Strategies of antioxidant defense. Eur. J. Biochem. 1993;215:213–215.
Delincee, H. Improvement of the ESR Detection of Irradiated Food Containing Cellulose Employing a Simple Extraction Method. Radiat. Phys. Chem. 2002;63:455‑8.
Kameya H. Evaluation of Hydroxyl Radical and Alkyl-oxy Radical Scavenging Activity of Coffee by ESR Spin Trapping Method. Journal of Food Science and Engineering 2017;7:305‑311.
About Bruker
Bruker
is market leader in analytical magnetic resonance instruments including NMR, EPR and preclinical magnetic resonance imaging (MRI).
Bruker's product portfolio in the field of magnetic resonance includes NMR, preclinical MRI ,EPR and Time-Domain (TD) NMR.
In addition Bruker delivers the world's most comprehensive range of research tools enabling life science, materials science, analytical chemistry, process control and clinical research.
Bruker is also the leading superconductor magnet and ultra high field magnet manufacturer for NMR and MRI solutions.
---
Sponsored Content Policy: News-Medical.net publishes articles and related content that may be derived from sources where we have existing commercial relationships, provided such content adds value to the core editorial ethos of News-Medical.Net which is to educate and inform site visitors interested in medical research, science, medical devices and treatments.
Last updated: Jan 18, 2018 at 9:28 AM