While New Moms Cook and Clean, New Dads Play: MedlinePlus Health News
While New Moms Cook and Clean, New Dads Play
Study shows men enjoy twice as much leisure time on weekends as their wives do
Thursday, October 12, 2017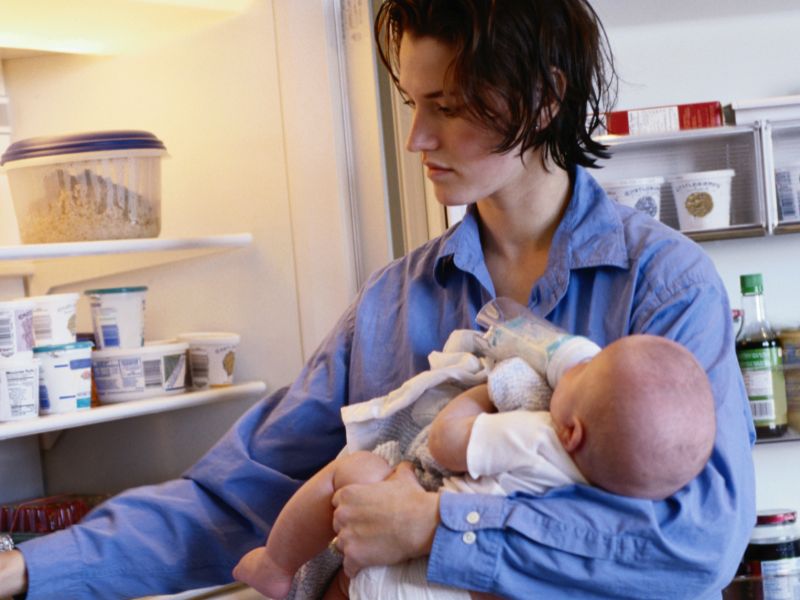 THURSDAY, Oct. 12, 2017 (HealthDay News) -- Here's news that may be familiar to many American women -- young Dads are not taking on their fair share of housework and child care, especially on weekends.
New research shows that, on their days off, men are most often found relaxing while women do household chores or look after their new infant. That's according to lead researcher Claire Kamp Dush, associate professor of human development and family science at Ohio State University.
In the study of 52 working couples, men spent about 101 minutes kicking back while their wives took on household responsibilities during days both had off.
By comparison, women only had about 49 minutes of relaxation while their husbands performed chores.
"There was time where both of them were doing child care and housework at the same time, but there was also a lot of time where she was doing some kind of work and he was doing leisure," Kamp Dush said. "Men were much more likely to have time like that than women."
The results show that household responsibilities still are being broken down along lines that leave women shouldering much more of the family burden, said Curtis Reisinger, a psychologist with Zucker Hillside Hospital in Glen Oaks, N.Y.
"Both males and females are continuing in their 'specialized' behaviors in their non-workdays," said Reisinger, who wasn't part of the study. "Males continue their 'boys will be boys' leisure behaviors on weekends as they traditionally have. Women continue their traditional 'homemaker' role during their discretionary time."
For the study, researchers asked dual-earner couples in central Ohio who were expecting their first child to fill out a minute-by-minute time diary detailing how they spent their day.
The men and women both filled out a diary twice, once on a workday and again on a day off, during the third trimester of pregnancy.
The couples then repeated the process about three months after the baby's birth, to see if having an infant caused any shifts in behavior.
The amount of time men and women spent on housework and child care was more equal on workdays after the baby's birth, although women still did slightly more work, the researchers found.
"They're doing some things right, because at least on the days that they're working there's a pretty even split. They're usually sharing tasks," said Natasha Quadlin, an assistant professor of sociology at Ohio State University. She was not part of the research team.
But on days off, a huge gap appeared between husbands and wives:
Men put their feet up 46 percent of the time as their partners performed child care; women rested only 16 percent of the time while husbands took care of the kid.
The same went for housework. Fathers relaxed 35 percent of the time while their wives cleaned, cooked and ran errands, while women took it easy only 19 percent of the time while their men performed similar chores.
Women had about the same amount of weekend leisure time before and after childbirth, 46 to 49 minutes, researchers found.
But men's weekend leisure time more than doubled after childbirth, leaping from 47 minutes during pregnancy to 101 minutes, the results showed.
It's likely men are more protective of their time off thanks to the expectations under which they were raised, Reisinger said.
"In our society, men grew up with an entitlement that they get to play on the weekends. This is not a norm for females," Reisinger said. "Consequently, men may resist the loss of leisure time more vehemently than women. Women do not have to give up such leisure time since they never had it to begin with."
Women also are under more societal pressure live up to homemaking ideals, Kamp Dush said.
"If your mother-in-law comes over to your house and it's messy, the mom is going to get blamed, not the dad," Kamp Dush said. "Women have the sense of feeling more responsible for these things. That's translating into them doing more housework and more child care, even when they're working outside the home just as much as their partner."
This pressure is so great that women often intervene when husbands aren't performing chores to her standards, further undermining her own leisure time, Kamp Dush said.
Study results showed when men are doing child care or housework, about 40 percent of the time his wife is working alongside him, Kamp Dush noted.
But when women are engaged in these chores, men are helping out only 14 percent to 20 percent of the time.
"She's helping him with the task or watching him do the task or is there involved as well," Kamp Dush said. "Women probably just need to just let men do those tasks, even if it's not the way they would personally do it. That would get them some more free time."
Men can turn this trend around by taking on more of the shared responsibility during days off, Kamp Dush said.
"Tell your wife, you go have an afternoon, I got this," Kamp Dush said. "Men need to realize they are responsible for this family and child and house, and they need to get in there and do it as well."
These inequalities could be addressed by allowing new moms and dads to swap responsibilities during the first months of parenthood, Kamp Dush said. Mothers could take the first three months off to care for their newborn, and then dads take the next three months off for child care while mom re-enters the workforce.
"That sets up the expectation that the baby and the house are both of our responsibility," Kamp Dush said.
The study was published online recently in the journal Sex Roles.
SOURCES: Claire Kamp Dush, Ph.D., associate professor, human development and family science, Ohio State University: Curtis Reisinger, Ph.D., psychologist, Zucker Hillside Hospital, Glen Oaks, N.Y.; Natasha Quadlin, Ph.D., assistant professor, sociology, Ohio State University; Oct. 3, 2017, Sex Roles, online
HealthDay
Copyright (c) 2017
HealthDay
. All rights reserved.
News stories are written and provided by HealthDay and do not reflect federal policy, the views of MedlinePlus, the National Library of Medicine, the National Institutes of Health, or the U.S. Department of Health and Human Services.
More Health News on