Life's milestones are changing for Millennials
|
MercatorNet
|
October 5, 2017|
MercatorNet |
Life's milestones are changing for Millennials
And it is increasing economic inequality.
Throughout history, marriage and parenthood have been defining milestones of adulthood found in virtually every society. Marriage has been about both love and social and economic stability.
The Roman word matrimonium, the root for the English word "matrimony", defines marriage's main function. Involving the mater (mother), it carries with it the implication of children and parenthood. This reflects the conventionally accepted purpose of marriage in the early Roman Empire and into modern Western history; children are the reason the State acts in people's lives through the legal recognition of marriage.
But life's defining milestones are changing for today's young adults. And it represents a drastic change in the way we live through our 20s and the responsibilities, joys and challenges we enjoy and take on during that period of our lives. It also means many more couples face fertility issues and/or have smaller families due to age related factors.
At ages 30 to 34 more than 26% of Millennials in the United States have neither been married nor had any children, according to
new analysis
of government data by the Institute of Family Studies. A further 18% have children but have never been married. Only a narrow majority - 56% - are married or have been married before. Of these, 78% have children.
In contrast, when the Baby Boomers (specifically, the late cohort born between 1957 and 1962) were the same age, only 13% had not formed a family. And only 10% had never married but had children.
The following table gives a breakdown of the proportion of young adults who are neither married nor have children in the United States between the ages of 30 and 34.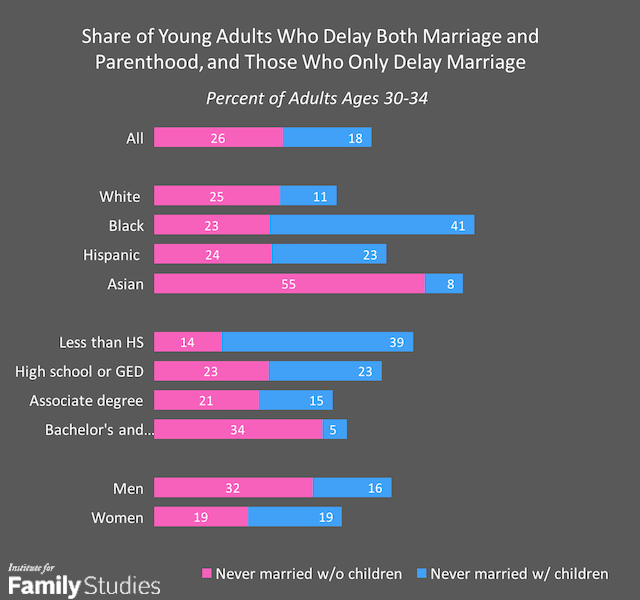 Note: Based on adults surveyed in 2013-14.
The group who has been married (with and without children) are included but not shown.
Though all groups today are postponing marriage and/or parenthood to some extent, there is a clear divide across race/ethnicity, education, and gender.
Among the major racial and ethnic groups, Asian American young adults are mostly likely to delay both marriage and childbearing. In their early 30s, more than half of Asians (55%) have never been married and are childless, compared with about a quarter of young adults in other racial groups. This is likely linked to the fact that young adults with at least a bachelor's degree are more likely than others to delay both marriage and childbearing, as they establish a career before having their first baby. About one-third of college-educated young adults ages 30 to 34 have never married or had children.
However, never-married young adults are not necessarily "single." In fact, about one-third of never-married young adults in their early 30s (32%) live with a partner.
Family arrangement is also often linked to financial well-being; only 2% of married young adults who delay having children are in poverty, the lowest rate of all young adults. And married young adults with children also do better than other groups: only 8% are in poverty.
Assuming the current trend continues, when today's never-married young adults reach their mid-40s and 50s, a quarter of them are likely to have never tied the knot. Recent data also shows that women who have delayed childbearing may still have children later in life, with women now having more babies in their 30s than in their 20s. Birth rates for unmarried women in their 30s are also rising. In 2015, unmarried women ages 30 to 34 had
60 births per 1000 people
, reaching a historical record for this age group.
According to researcher Wendy Wang, director of research at the Institute for Family Studies and a former senior researcher at Pew Research Center:
The demographic and economic divide between young adults who postpone both marriage and parenthood and those who only postpone marriage but not parenthood will further contribute to economic inequality in the United States.

Moreover, the combination of delayed childbearing with the declining marriage rate is likely to lead to a steady drop of the overall fertility rate among U.S. women.
The further we erode marriage, the further we create instability and increase the risk of poverty for our most vulnerable citizens. Credited with so many well-thought out achievements, the Roman Empire was probably onto something when it strengthened marriage.
October 5, 2017
According to
Pew Research Center
polling data published in January, pro-life opinion has lost some ground in recent years. Nevertheless, 37 percent of Americans think abortion should be illegal all or most of the time and 44 percent consider it immoral. Also many states impose restrictions such as waiting periods and on private insurance plans. A Texas law relating to abortion clinics reached the US Supreme Court last year.
What explains the remarkable endurance of the pro-life cause so long after its most significant legal defeat? William C. Duncan answers this question in a
review of Defenders of the Unborn
, a book about the history of the pro-life movement before 1973. It reminded me of the pioneers of the movement in my own country – similarly diverse -- and filled me with admiration both for all of them, and for those who carry the great cause of the humanity of the unborn child today.
A recommended read for the Irish who are
facing a referendum
next year on removing protection of the unborn child from their Constitution.



Carolyn Moynihan
Deputy Editor,
MERCATORNET
MERCATORNET | New Media Foundation
Suite 12A, Level
2, 5 George Street
, North Strathfied NSW 2137, Australia
Designed by
elleston
Life's milestones are changing for Millennials