Multivitamins May Not Help Men's Hearts, Even When Diet Is Poor: MedlinePlus Health News
Multivitamins May Not Help Men's Hearts, Even When Diet Is Poor
Study found no preventive benefit, but more research might still be warranted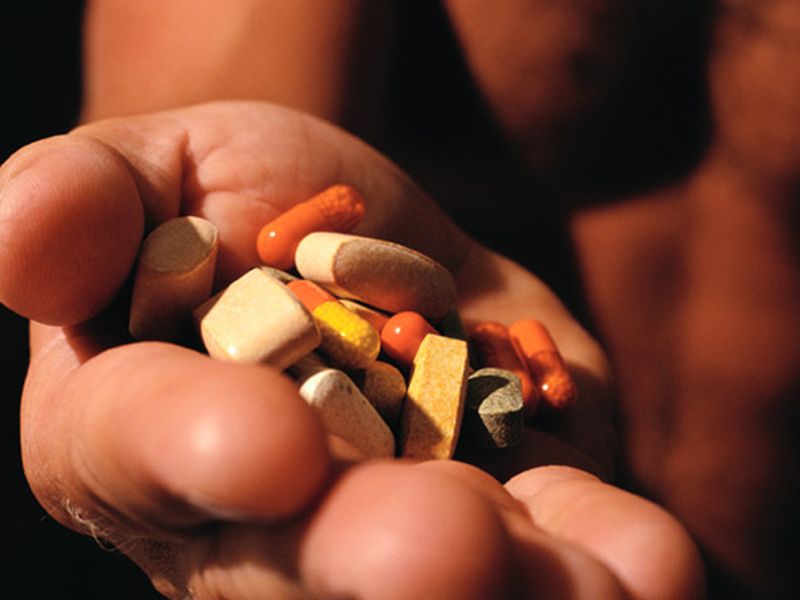 FRIDAY, April 7, 2017 (HealthDay News) -- Millions of American men pop a multivitamin each day, but new research shows the pills won't help the heart -- even if a man's nutrition is lacking.
"Many had thought that men with 'poor' nutritional status at baseline may benefit more from long-term multivitamin use on cardiovascular outcomes; however, we did not see any evidence for this in our recent analysis," study author Howard Sesso, of Brigham and Women's Hospital in Boston, said in a hospital news release.
According to background information from the researchers, more than half of older Americans take a multivitamin each day. However, many prior studies have shown little evidence of any health benefit.
In the new research, Sesso and his colleagues tracked data from an ongoing study of more than 14,000 U.S. male doctors over the age of 50. A prior look at this data had found that taking multivitamins did not reduce the men's risk of heart disease over 11 years of follow-up.
But would the same be true for men who had relatively poor diets, perhaps lacking in certain nutrients?
According to the new report, the results were the same -- daily use of multivitamins did not reduce the risk of heart disease, even in this more nutritionally challenged subset.
Two experts -- one a cardiologist, one a nutritionist -- had somewhat differing views on the findings, however.
"This study, like previous studies, suggests that multivitamin use does not reduce risk of heart disease -- even in men with poor nutrition," said Dr. Kevin Marzo. He's chief of cardiology at NYU Winthrop-University Hospital in Mineola, N.Y.
Marzo believes too many Americans view multivitamins as a "quick fix" to ward off health woes.
"Prevention strategies for reducing heart disease risk should focus not on dietary supplements but rather on regular exercise and a healthy diet rich in vegetables, whole grains and unsaturated fats," he said.
Stephanie Schiff, a registered dietitian at Huntington Hospital in Huntington, N.Y., took a different view.
"The best way to get nutrients is from whole foods, but sometimes it's beneficial to take a multivitamin to help prevent nutritional shortfalls," she said.
And Schiff believes that -- at least for women -- a lack of nutrients may contribute to heart risks, so outcomes might be different for females.
For example, she said, "some studies indicate that a vitamin D deficiency may be a risk factor for congestive heart failure, high blood pressure, strokes and heart attacks."
But so far, studies involving women and multivitamins have had mixed results, Schiff added, and more research might still be needed.
"Perhaps some kind of nutritional shortfall may be responsible for an increased risk of heart disease in women," she said. "These studies don't necessarily prove cause and effect, but there may be some kind of correlation. The best way to find out would be for more randomized clinical trials with large sample sizes to be conducted."
Sesso agreed. "Given the continued high prevalence of multivitamin use in the U.S., it remains critical for us to understand its role on nutritional status and other long-term health outcomes through clinical trials," he said.
A group representing supplement manufacturers took issue with the study.
"The results of this study are not necessarily generalizable to the whole population," said Duffy MacKay, senior vice president of scientific and regulatory affairs for the Council for Responsible Nutrition (CRN). "The study participants were male physicians who on average had a healthier diet than the general U.S. population, which could be why the researchers did not find any additional benefit from a nutritional intervention."
The study received funding from the CRN Foundation, MacKay noted.
"We strongly encourage further research to determine additional value of the multivitamin and that of other individual nutrients," he added. "For consumers, the key takeaway of this study is that the multivitamin is not a panacea, but at the very least, given the nutrient shortfalls in our population, it can reliably fill nutrient gaps."
MacKay also recommends that consumers "open up a dialogue" with their physicians about the use of multivitamins or other supplements.
The study was published April 5 in the journal JAMA Cardiology.
SOURCES: Kevin Marzo, M.D., chief of cardiology, NYU Winthrop-University Hospital, Mineola, N.Y.; Stephanie Schiff, RDN, registered dietitian, Huntington Hospital, Huntington, N.Y.; Duffy MacKay, senior vice president of scientific and regulatory affairs, Council for Responsible Nutrition; Brigham and Women's Hospital, news release, April 5, 2017
HealthDay
Copyright (c) 2017
HealthDay
. All rights reserved.
News stories are written and provided by HealthDay and do not reflect federal policy, the views of MedlinePlus, the National Library of Medicine, the National Institutes of Health, or the U.S. Department of Health and Human Services.
More Health News on:
Friday, April 7, 2017