https://medlineplus.gov/news/fullstory_162057.html
New Drug May Brighten Outlook for Advanced Breast Cancer
Palbociclib slows disease progression, study finds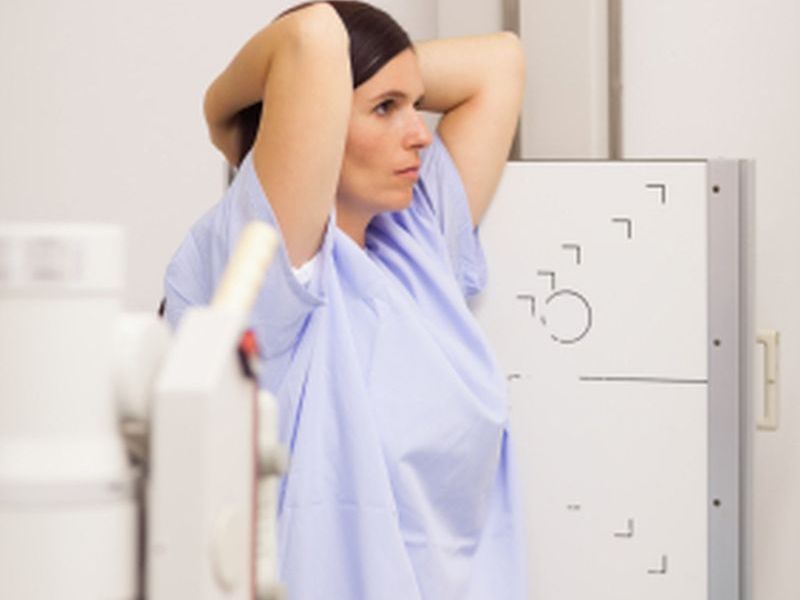 WEDNESDAY, Nov. 16, 2016 (HealthDay News) -- A recently approved drug can help slow the progression of advanced breast cancer, a new clinical trial confirms.
The drug, called palbociclib (Ibrance), was approved in the United States last year for treating advanced cases of ER-positive breast cancer. That means the cancer uses the hormone estrogen to help fuel its growth.
The approval was based on an earlier-stage study where the drug, used along with a standard drug called letrozole (Femara), helped keep women's cancer at bay. Palbociclib doubled the time patients remained progression-free compared to letrozole alone.
The new findings, published in the Nov. 17 New England Journal of Medicine, confirm the earlier results in a larger group of women.
"We found that the degree of clinical benefit was, again, remarkable," said lead researcher Dr. Richard Finn, an assistant professor of medicine at the University of California, Los Angeles.
Among postmenopausal patients in the trial, those given the drug combination typically remained progression-free for just over two years. That compared to just over 14 months among women treated with letrozole alone.
"This is an incredibly important step" in improving the outlook for women with advanced breast cancer, said Dr. Antonio Wolff, a professor of oncology at Johns Hopkins University in Baltimore.
"We know this isn't the final answer," added Wolff, who wrote an editorial published with the study. Other drugs aimed at stalling advanced breast tumors are in development, he noted.
But palbociclib should be considered "a new standard" for treating advanced ER-positive breast cancer, Wolff said.
Palbociclib is the first in a new class of drugs designed to inhibit two enzymes called CDK4 and CDK6, which help ER-positive breast tumors spread. Palbociclib is a capsule taken once a day for three weeks, followed by one week off.
Letrozole, meanwhile, works by lowering estrogen levels in the body.
About two-thirds of breast cancers have receptors for estrogen and/or the hormone progesterone, according to the American Cancer Society.
In this latest trial, Finn's team tested palbociclib/letrozole as a first-line treatment for advanced cancer that had spread beyond the breast. They randomly assigned 666 women to receive the drug duo or letrozole alone, and followed them for up to three years.
At that point, 44 percent of women in the palbociclib group had either died or seen their cancer progress. That compared with 62 percent of women on letrozole alone, according to the study.
Women on the drug combo typically remained progression-free for nearly 25 months, versus roughly 14 months for women on letrozole, the researchers found.
Once patients like these have a progression, they can try other types of hormonal therapy, or eventually chemotherapy, Finn said. Since chemo has harsh side effects, delaying it could improve a woman's quality of life, he noted.
Palbociclib has side effects, too. One of the most common -- seen in two-thirds of women in this study -- is neutropenia. That's a drop in a type of white blood cell, and it could leave women vulnerable to serious infections.
However, Finn said, the neutropenia caused by palbociclib appears to be different from chemo-induced neutropenia -- in that it's "temporary."
Wolff agreed. The drug seems to put certain white blood cell precursors "to sleep," he explained, and the effect can be reversed by lowering the dose.
Side effects that could affect quality of life, Wolff said, include fatigue, nausea and pain. Each of those problems affected a little more than one-third of patients on palbociclib.
Most often, Finn said, those side effects were on the milder side, and happened in both treatment groups.
He and Wolff said the drug combination should be considered a standard treatment for advanced ER-positive cancer.
One big question, though, is whether palbociclib ultimately extends women's lives. The trial has not gone on long enough to determine that, Finn said.
"But the hope is, this will also improve overall survival," he said.
Another question, added Wolff, is whether some women with advanced cancer can do just as well with hormonal therapy alone, at least to start.
That's important, he said, because of palbociclib's side effects and price tag.
Pfizer, Inc., which funded the current trial, set the cost of palbociclib at close to $10,000 a month.
Ongoing studies are looking at whether the drug can also help prevent recurrences of earlier-stage breast cancer. In that scenario, the issues of side effects and cost will be even more important, Wolff said.
SOURCES: Richard Finn, M.D., assistant professor, medicine, Geffen School of Medicine, University of California, Los Angeles; Antonio Wolff, M.D., professor, oncology, Johns Hopkins University Sidney Kimmel Comprehensive Cancer Center, Baltimore; Nov. 17, 2016, New England Journal of Medicine
HealthDay
Copyright (c) 2016
HealthDay
. All rights reserved.
News stories are provided by HealthDay and do not reflect the views of MedlinePlus, the National Library of Medicine, the National Institutes of Health, the U.S. Department of Health and Human Services, or federal policy.
More Health News on:
Wednesday, November 16, 2016