Could Diet in Pregnancy Raise Child's Odds for ADHD?: MedlinePlus
Could Diet in Pregnancy Raise Child's Odds for ADHD?
Study underscores importance of good prenatal nutrition
Thursday, August 18, 2016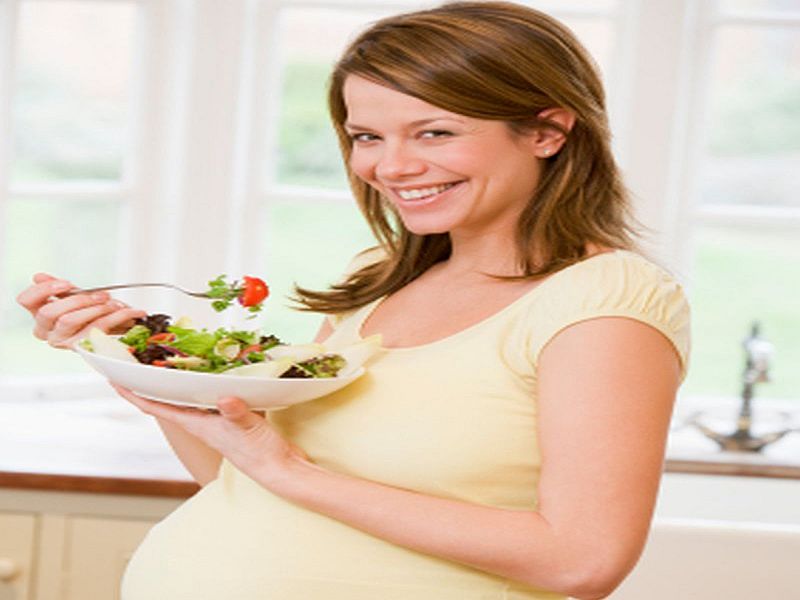 THURSDAY, Aug. 18, 2016 (HealthDay News) -- An unhealthy diet during pregnancy could influence a child's risk of attention-deficit/hyperactivity disorder (ADHD), a new study warns.
Researchers found that a high-fat, high-sugar diet can affect the function of a gene called IGF2 that helps steer fetal development of brain regions previously linked to ADHD.
"These results suggest that promoting a healthy prenatal diet may ultimately lower ADHD symptoms and conduct problems in children," said senior researcher Edward Barker, director of the developmental psychopathology lab at King's College London.
However, Barker said the study only shows an association, rather than a direct cause-and-effect. "We do not suggest that a mother's diet will cause ADHD or conduct problems," he said. "There are many causes of ADHD and conduct problems, and usually many small influences are at work together, diet being one of them."
A bad diet appears to influence the way the IGF2 gene is read and interpreted by cells through a process called DNA "methylation," Barker said. In methylation, an extra molecule is tacked onto a DNA strand.
"DNA methylation can influence how a person's genetic make-up might affect their development, in response to risk exposures including poor nutrition," Barker said.
Animal research has shown that what a mother eats during pregnancy can change the action of genes important for the development of the brain, but very little is known about the influence of diet during pregnancy on the human brain, he said.
To investigate this, Barker and his colleagues compared 83 British children aged 7 to 13 with conduct problems against 81 relatively well-behaved children. Conduct problems often go hand in hand with ADHD, his team noted.
During pregnancy, the children's mothers filled out a questionnaire regarding their diet.
Researchers then assessed whether the IGF2 gene in their children had experienced DNA methylation. They did this using blood samples taken either from the children's umbilical cord at birth or from the child at age 7.
The IGF2 gene is involved in the development of the cerebellum and hippocampus, regions of the brain that have been implicated in ADHD, the researchers explained.
The researchers found that poor prenatal nutrition was associated with higher IGF2 methylation in children with conduct problems. Diets that included lots of processed foods and baked sweets particularly appeared to affect the function of IGF2, Barker said.
Higher IGF2 methylation also was associated with increased ADHD symptoms, but only for children with conduct problems, the researchers noted.
But there's more than one way to interpret these results, warned Dr. Ruth Milanaik, director of the neonatal neurodevelopmental follow-up program at Cohen Children's Medical Center, New Hyde Park, N.Y.
ADHD can be passed down from parent to child through genetics, Milaniak said. These children might simply have inherited their ADHD from their mother, with the pregnant mom's poor diet playing little to no role.
"Women who have ADHD who are hyperactive may impulsively overeat and impulsively make poor food decisions," Milaniak said. "We all know that genetics in some way play a part in ADHD, and before this study can be really generalized we need to look at the genetics of the mother."
A woman's ADHD might also lead her to smoke, drink or use drugs during pregnancy, which are also risk factors for childhood ADHD, Milaniak added.
"There are some confounding variables here that I'm not 100 percent sure of," she said. "Without correcting for them, you really have an issue."
Milaniak believes the study should be followed up, but she is concerned about backlash from these findings.
"I don't want this to be another thing that can be used to put guilt or blame on any mother," she said. "It is very difficult to have a child with ADHD. What they don't need is somebody pointing a finger at a mother."
However, both Barker and Milaniak agreed that a healthy diet during pregnancy is important for proper fetal development. Such a diet should be well-rounded, and include lots of vegetables, fruits, whole grains, dairy, and protein from animals and plants.
"Diet is important for a child's health and development," Barker said. Foods that a mother might want to eat in moderation include processed foods and sweets, he added.
The study was published Aug. 18 in the Journal of Child Psychology and Psychiatry.
SOURCES: Edward Barker, Ph.D., director, Developmental Psychopathology Lab, King's College London; Ruth Milanaik, D.O., director, neonatal neurodevelopmental follow-up program, Cohen Children's Medical Center, New Hyde Park, N.Y.; Aug. 18, 2016, Journal of Child Psychology and Psychiatry
HealthDay
Copyright (c) 2016
HealthDay
. All rights reserved.
News stories are provided by HealthDay and do not reflect the views of MedlinePlus, the National Library of Medicine, the National Institutes of Health, the U.S. Department of Health and Human Services, or federal policy.
More Health News on: