Etymologia: Plague - Volume 24, Number 1—January 2018 - Emerging Infectious Disease journal - CDC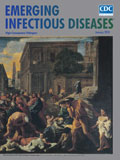 Volume 24, Number 1—January 2018
Etymologia
Etymologia: Plague
Plague (from the Latin
plaga
, "stroke" or "wound") infections are believed to have been common since at least 3000
bce
. Plague is caused by the ancestor of current
Yersinia
(named for Swiss bacteriologist Alexandre Yersin, who first isolated the bacterium)
pestis
strains (
Figure 1
). However, this ancestral
Y. pestis
lacked the critical
Yersinia
murine toxin (
ymt
) gene that enables vectorborne transmission. After acquiring this gene (sometime during 1600–950
bce
), which encodes a phospholipase D that protects the bacterium inside the flea gut,
Y. pestis
evolved the ability to cause pandemics of bubonic plague. The first recoded of these, the Justinian Plague, began in 541
ace
and eventually killed more than 25 million persons (
Figure 2
).
References
Centers for Disease Control and Prevention

. History of plague [cited 2017 Oct 19]. https://www.cdc.gov/plague/history/index.html.
Figures
Cite This Article