Antibiotics Improve Treatment of Skin Abscesses: MedlinePlus Health News
Antibiotics Improve Treatment of Skin Abscesses
Drainage alone resulted in worse recovery rates, study finds
Thursday, June 29, 2017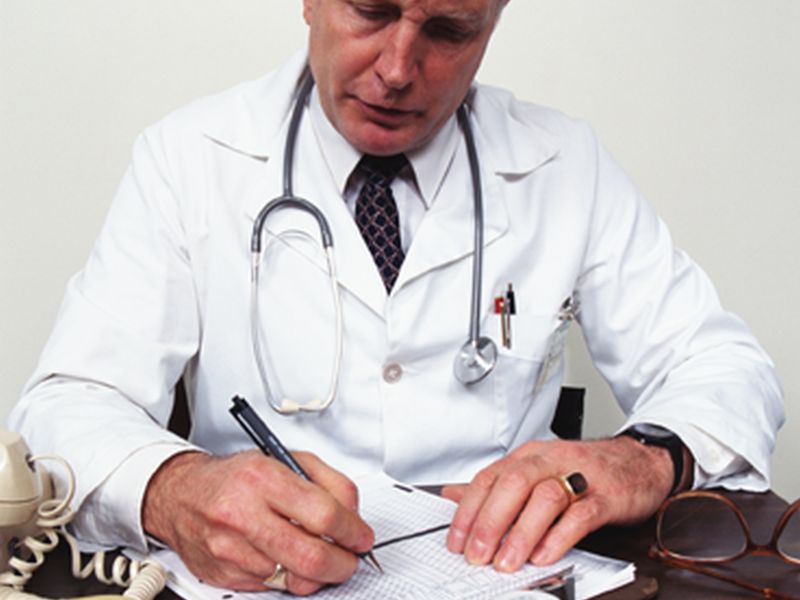 WEDNESDAY, June 28, 2017 (HealthDay News) -- New research might change the way doctors treat skin abscesses in children and adults, medical experts say.
Giving an antibiotic when draining the infection significantly improves recovery, a new report suggests.
"The conventional wisdom has been that you don't really need antibiotics," said Dr. Marc Siegel, a clinical professor of medicine with NYU Langone Medical Center in New York City.
"But this moves the needle on this, and suggests that maybe there is a benefit to putting patients on prophylactic [preventive] antibiotics," said Siegel, who wasn't involved in the study.
Abscesses, also called boils, are painful, pus-filled infections under the skin. Most are treated on an outpatient basis, with the doctor making a small incision and draining the pus.
The majority of these skin infections are caused by Staphylococcus aureus, which can include the drug-resistant MRSA bacteria, the researchers explained in background notes. The study authors wondered if adding antibiotics into the mix might improve recovery rates.
To find out, Dr. Robert Daum, a professor of pediatrics at the University of Chicago, and colleagues tracked nearly 800 abscess patients between 2009 and 2015.
About two-thirds were adults, and one-third were children. All had a drainable abscess, ranging from about 1-inch in diameter to about 2-inches.
Nearly half of the treated abscesses involved MRSA, a growing public health concern given its resistance to many common types of antibiotics.
With that in mind, investigators turned to these two antibiotics: clindamycin and trimethoprim-sulfamethoxazole (TMP-SMX). While neither is in widespread use, both have been shown to be effective against MRSA infections.
After incision and drainage, one-third of the patients were prescribed clindamycin. Another third received TMP-SMX. The remaining one-third received a placebo (inactive drug).
After 10 days of treatment, more than eight out of 10 MRSA infections appeared to fully clear up in both antibiotics groups. This compared with just a 63 percent cure rate among those not given any antibiotic.
In addition, clindamycin resolved 89 percent of the standard S. aureus infections, while TMP-SMX achieved an 80 percent cure rate. That figure fell to just 66 percent among the non-antibiotic group.
One month out, the team again found higher sustained cure rates among those treated with antibiotics.
The most common side effects were mild or moderate diarrhea and nausea, the researchers said.
Siegel said adding an antibiotic to abscess treatment could be particularly helpful for diabetics, who have problems with wound healing, and people with a compromised immune system.
"Although they used antibiotics that are never really used anymore, this finding may apply to all antibiotics, some of which have fewer side effects. So it's a very interesting result," he said.
Dr. Kenneth Bromberg agreed that the study findings "will cause those physicians who only use drainage to reconsider" their position.
"I think doctors should adopt the use of antibiotics in most patients based on this study," said Bromberg, a professor of clinical pediatrics with the Icahn School of Medicine at Mount Sinai in New York City. He also noted that children in the study seemed to fare better with clindamycin.
Bromberg, who wasn't involved in the study, said that although the study didn't specifically address patients with diabetes or immune problems, "most practitioners are already using antibiotics in those situations."
The study was funded by the U.S. National Institutes of Health. The results were published in the June 29 issue of the New England Journal of Medicine.
SOURCES: Marc Siegel, M.D., clinical professor, medicine, NYU Langone Medical Center, New York City; Kenneth Bromberg, M.D., FAAP FIDSA FPIDS, adjunct professor, medicine, Downstate School of Medicine, and professor of clinical pediatrics, Icahn School of Medicine at Mount Sinai, New York City; June 29, 2017, New England Journal of Medicine
HealthDay
Copyright (c) 2017
HealthDay
. All rights reserved.
News stories are written and provided by HealthDay and do not reflect federal policy, the views of MedlinePlus, the National Library of Medicine, the National Institutes of Health, or the U.S. Department of Health and Human Services.
More Health News on