https://medlineplus.gov/news/fullstory_162413.html
Even Small Rise in Blood Pressure Can Harm Black Patients
Study shows higher early death and heart failure risk from slight increase in numbers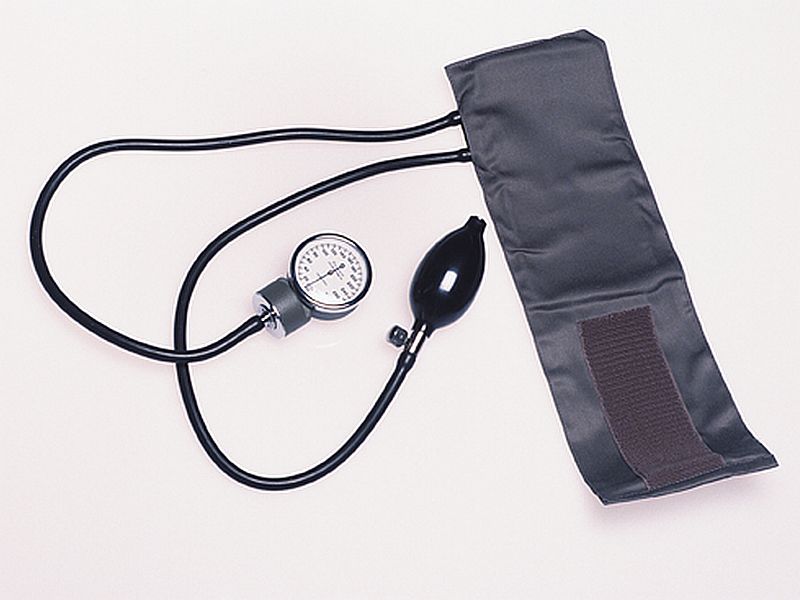 WEDNESDAY, Dec. 7, 2016 (HealthDay News) -- Even small increases in blood pressure can be dangerous for black people, a new study suggests.
A rise of as little as 10 mm Hg in systolic blood pressure in blacks raised the risk of dying during the study by 12 percent. The risk was even greater for black people under 60 -- each additional 10 mm Hg increased the risk of dying early by 26 percent, compared with a 9 percent increase for those over 60, the study showed.
"These findings should urge doctors and patients to consider all the available data and weigh the risks and benefits prior to selecting a blood pressure goal in African-American patients," said lead researcher Dr. Tiffany Randolph. She's a cardiologist with the Cone Health Medical Group HeartCare in Greensboro, N.C.
Blood pressure is made up of two numbers. The top number is called systolic pressure. This measures the pressure in the arteries when blood is being pumped from the heart. The bottom number -- diastolic pressure -- measures the pressure between heartbeats. Blood pressure is expressed in millimeters of mercury (mm Hg).
The 2014 blood pressure guidelines from the U.S. National Institutes of Health Eighth Joint National Committee changed blood pressure goals for patients over 60 without diabetes or kidney disease. The goal was changed to a target of less than 150/90 mm Hg. Previously the goal had been 140/90 mm Hg, Randolph said.
Although the recommendations were based on clinical trials, the trials didn't include many black people, she said.
"Our data suggest that increases in blood pressure are associated with greater risk of death among all ages of African-Americans, even people over age 60," Randolph said.
Only about 50 percent of all people with high blood pressure reach these goals. And because black people are more likely to have high blood pressure and suffer from its consequences, such as stroke, heart attack and kidney failure, "there is concern that raising the recommended blood pressure goals in this population may have unintended consequences," Randolph said.
Moreover, even though the increased risk of death from high blood pressure was smaller among people 60 or older, they may actually benefit most by having well-controlled blood pressure, as their overall risk of death is higher than those under 60, she said.
Dr. Gregg Fonarow is a professor of cardiology at the University of California, Los Angeles and a spokesman for the American Heart Association. He said, "These findings provide further evidence of the potential harms in terms of increased risk of heart attacks, strokes, heart failure and premature deaths that resulted from any physician or patient that followed the Joint National Committee blood pressure guidelines."
These guidelines have been controversial, Fonarow added. Rather than tightening blood pressure goals to be consistent with all clinical trial evidence in adults 60 and over, they actually loosened the goal. Major professional societies, such as the American Heart Association and others, have refused to endorse these guidelines, he said.
The new study included more than 5,200 people enrolled in the Jackson Heart Study between 2000 and 2011 in Jackson, Miss.
All of the study participants were black and their average age was 56. Nearly two-thirds were women. Participants were followed for an average of seven to nine years.
At the beginning of the study, 60 percent of the participants had high blood pressure, Randolph said. The median blood pressure at the start was 125/79 mm Hg.
"We found that every 10 mm Hg increase in systolic blood pressure was associated with a 12 percent increase in the risk of death and a 7 percent increase in the risk of being hospitalized for heart failure," she said.
Fonarow recommended these target numbers for optimal health: "The ideal for heart and brain health is a systolic blood pressure of less than 120 mm Hg and diastolic blood pressure less than 80 mm Hg," he said.
Recently, the Systolic Blood Pressure Intervention Trial (SPRINT), of which 30 percent of patients were black, showed that aiming for a systolic pressure of less than 120 mm Hg saved lives, reducing deaths from any cause by 27 percent, Fonarow said.
Dr. Stacey Rosen is vice president of women's health at Northwell Health's Katz Institute for Women's Health in New Hyde Park, N.Y. "This study highlights the need to do more work on where treatment goals should be," she said.
"We cannot underestimate the importance of pushing blood pressure lower in order to minimize cardiovascular risk," Rosen said.
High blood pressure is manageable with a heart-healthy lifestyle, including maintaining a healthy weight, eating a healthy diet, being physically active, not smoking and, for some, taking blood pressure-lowering medication, the researchers said.
The report was published online Dec. 7 in the Journal of the American Heart Association.
SOURCES: Tiffany Randolph, M.D., cardiologist, Cone Health Medical Group HeartCare, Greensboro, N.C.; Gregg Fonarow, M.D., spokesman, American Heart Association, and professor, cardiology, University of California, Los Angeles; Stacey Rosen, M.D., vice president, women's health, Northwell Health's Katz Institute for Women's Health, New Hyde Park, N.Y.; Dec. 7, 2016, Journal of the American Heart Association
HealthDay
Copyright (c) 2016
HealthDay
. All rights reserved.
News stories are provided by HealthDay and do not reflect the views of MedlinePlus, the National Library of Medicine, the National Institutes of Health, the U.S. Department of Health and Human Services, or federal policy.
Wednesday, December 7, 2016