https://medlineplus.gov/news/fullstory_161956.html
'Tailoring' Skin Exams May Boost Melanoma Detection
Certain groups should start screening earlier, study suggests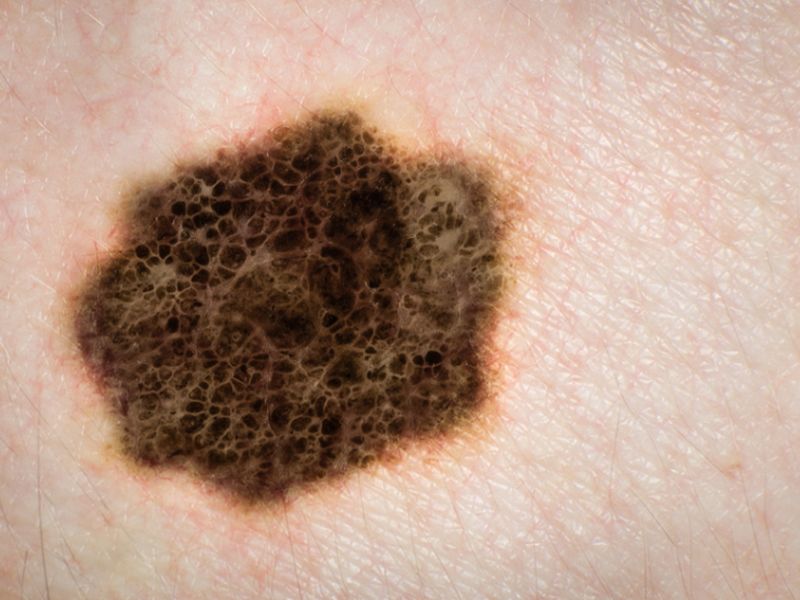 THURSDAY, Nov. 10, 2016 (HealthDay News) -- Some people at high risk of melanoma may benefit from more "tailored" skin exams, a new study suggests.
Melanoma is the least common, but most serious form of skin cancer. It's estimated that about 76,400 Americans will be diagnosed with the disease in 2016, according to the American Cancer Society (ACS).
Melanoma can be caught early if suspicious growths on the skin are detected.
The new study, researchers said, helps zero in on some groups who may need to start skin exams at a younger age, or do them more often: People with a personal or family history of melanoma; and those with a lot of moles on their skin.
The report also gives an idea of which body areas people should monitor with particular attention, according to lead researcher Caroline Watts. She's a research fellow at the Sydney School of Public Health, at the University of Sydney in Australia.
But ultimately, she said, people should discuss the best approach with their own doctor.
"Patients with risk factors -- such as many moles, history of previous melanoma, and family history of melanoma -- should talk to their doctor to discuss skin cancer prevention and skin screening, particularly if they notice a new or changing mole," Watts said.
The study, published online Nov. 9 in JAMA Dermatology, followed over 2,700 melanoma patients. Each patient was defined as either higher- or lower-risk of having a recurrence.
People were considered higher risk if they'd had multiple other melanomas in the past, had blood relatives with the cancer, or had "many" moles on their skin. ("Many" was judged subjectively by each patient's doctor, Watts said.)
Overall, the study found, people in the high-risk group tended to be younger than other melanoma patients.
People with many moles were diagnosed at an average age of 59. That dipped to age 56 among patients with a family history of the skin cancer, the researchers said.
In contrast, people without any of the three risk factors were diagnosed at age 65, on average.
There were also differences in the body areas most often involved, Watts said.
People with a lot of moles often had cancer on the torso: 41 percent did, versus 29 percent of other patients. And among people with a family history of melanoma, the limbs were most often affected -- 57 percent of the time, versus 42 percent among patients with no family history, the findings showed.
On the other hand, people with a personal history of melanoma more often had cancer on the face or neck, versus people who'd never been diagnosed before: 21 percent did, compared with 15 percent.
Those patterns fit with what researchers call the "two-pathway" process toward melanoma, said Monika Janda, of Queensland University of Technology, in Brisbane, Australia.
Some people -- including those with many moles, or a family of history of melanoma -- may be more genetically vulnerable to the cancer. So they may develop it at a younger age, and in areas of the skin that are less exposed to the sun, Janda explained.
When people do not have an elevated genetic risk, they may be more prone to melanomas on the head and neck -- which are more consistently exposed to the sun.
Janda co-wrote an editorial published with the study.
The ACS recommends that people do their own skin exams once a month. The point is to become familiar with the normal pattern of moles and other marks on the skin, so it's easier to notice any new growths or changes in moles.
Those self-exams are in addition to any skin exams done by a doctor.
According to Watts, people with a large number of moles or a family history of melanoma may want to start skin exams earlier, or be sure to do them often.
But they're not the only ones who should pay attention to their skin, Janda pointed out.
"It would be a good idea for people to discuss their personal skin-examination routine with their doctor," she said. "For younger people, this is especially important if they have used sunbeds [indoor tanning] -- as these greatly increase the risk of melanoma at a young age."
SOURCES: Caroline Watts, M.P.H., research fellow, Sydney School of Public Health, Australia; Monika Janda, Ph.D., professor, School of Public Health and Social Work, Queensland University of Technology, Brisbane, Australia; Nov. 9, 2016, JAMA Dermatology, online
HealthDay
Copyright (c) 2016
HealthDay
. All rights reserved.
News stories are provided by HealthDay and do not reflect the views of MedlinePlus, the National Library of Medicine, the National Institutes of Health, the U.S. Department of Health and Human Services, or federal policy.
Thursday, November 10, 2016