The English Bulldog's Health Has Gone to the Dogs: MedlinePlus
The English Bulldog's Health Has Gone to the Dogs
Aggressive breeding to change appearance dampened the pooches' immune systems, study says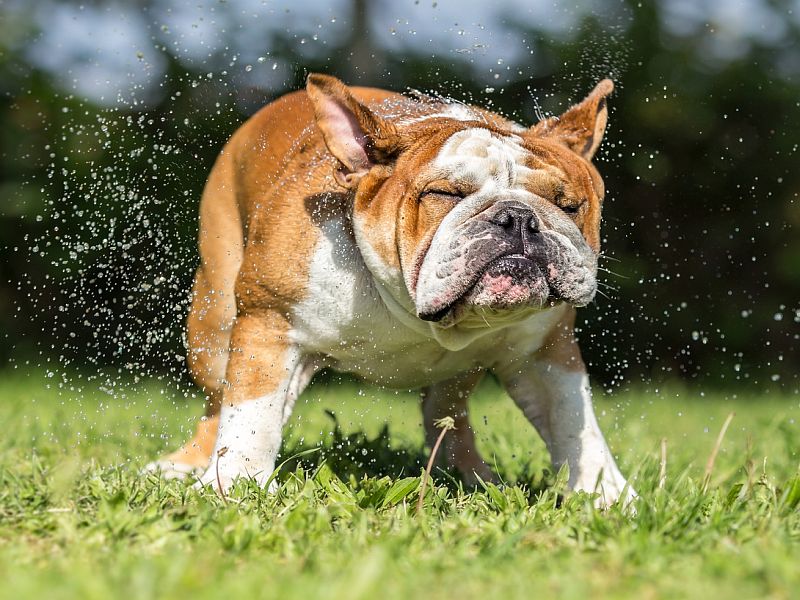 FRIDAY, July 29, 2016 (HealthDay News) -- They may be adorable, but English bulldogs are sicker than almost any other breed of dog. And, a new study says their genes don't offer much opportunity to boost their health.
The English bulldog's genetic makeup has a lot of changes linked to attempts to adjust its appearance as a breed. These changes disrupted the immune system of the English bulldog, making it harder for the breed to fight off illness, the researchers said.
Their genes have also become too similar for breeders to reduce the higher risk of sickness by only breeding the healthiest English bulldogs. There's just not enough genetic diversity in the breed, the researchers said.
Still, English bulldogs are extremely popular in the United States. In 2014, they were the fourth most popular purebred.
The study appears in the July issue of Canine Genetics and Epidemiology.
"The English bulldog has reached the point where popularity can no longer excuse the health problems that the average bulldog endures in its often brief lifetime," study lead author Niels Pedersen said in a journal news release.
"More people seemed to be enamored with its appearance than concerned about its health. Improving health through genetic manipulations presumes that enough diversity still exists to improve the breed from within, and if not, to add diversity by outcrossing to other breeds. We found that little genetic 'wiggle room' still exists in the breed to make additional genetic changes," said Pedersen, who's with the Center for Companion Animal Health at the University of California, Davis.
The genetic changes occurred over hundreds of years, but the changes were particularly rapid over the past few decades, Pedersen explained.
"Breeders are managing the little diversity that still exists in the best possible manner, but there are still many individuals sired from highly inbred parents. Unfortunately eliminating all the mutations may not solve the problem as this would further reduce genetic diversity," he said.
The study was based on an analysis of 102 healthy English bulldogs and 37 with health problems.
Similar genetic studies have been done with several other breeds, including Standard and Miniature Poodles, American Golden Retrievers, and American and European Italian Greyhounds, the researchers said.
SOURCE: BioMed Central, news release, July 28, 2016
HealthDay
Copyright (c) 2016
HealthDay
. All rights reserved.
News stories are provided by HealthDay and do not reflect the views of MedlinePlus, the National Library of Medicine, the National Institutes of Health, the U.S. Department of Health and Human Services, or federal policy.
More Health News on:
Friday, July 29, 2016