Could Weight-Loss Surgery Boost Odds of Preemie Birth?: MedlinePlus
Could Weight-Loss Surgery Boost Odds of Preemie Birth?
Monitoring is essential, especially later in pregnancy, study suggests
Wednesday, August 24, 2016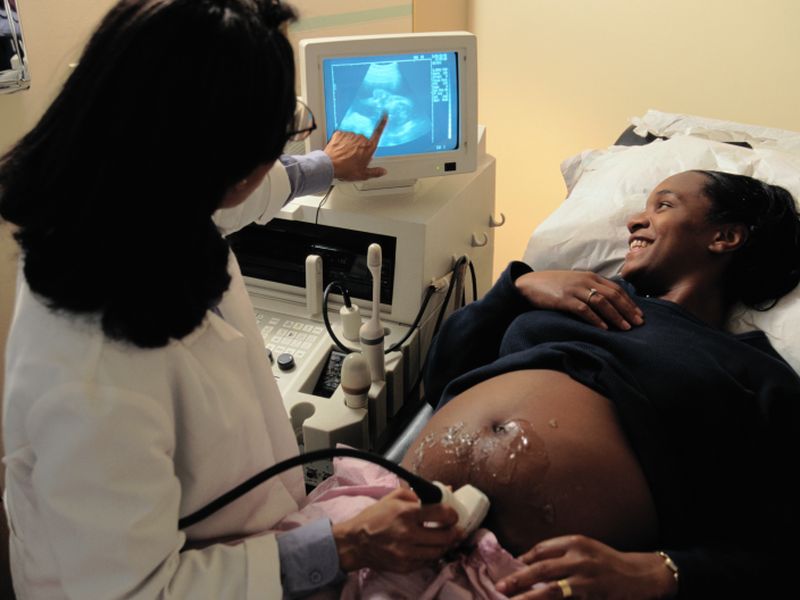 WEDNESDAY, Aug. 24, 2016 (HealthDay News) -- Mothers-to-be who've had weight-loss surgery may have increased odds for premature delivery, researchers report.
"Women and their doctors should be aware of this risk increase, and women with previous bariatric [weight-loss] surgery should be carefully monitored during pregnancy," said Dr. Olof Stephansson, lead researcher on a new study from Sweden.
The current findings contradict results from a smaller study by the same team. However, the earlier research involved fewer than 600 women who had undergone weight-loss surgery.
This time, the researchers assessed nearly 2,000 births after the surgery. The investigators found that 8.4 percent were preterm -- before 37 weeks' gestation. That compared with 6.8 percent among nearly 6,600 women of similar size who didn't have the weight-loss procedure.
"We cannot say what is causing this risk increase, but we have matched other known risk factors like maternal age, cigarette smoking and parity [number of pregnancies]," said Stephansson, a senior researcher at the Karolinska Institute in Stockholm.
Weight-loss surgery -- a treatment for severe obesity -- is increasingly common among women of child-bearing age, the authors noted. It's often recommended after diet and lifestyle changes fail to budge the scale.
Often, obese women have problems conceiving, and weight-loss surgery, or "bariatric" surgery, "can give them a chance at fertility," said Dr. Mitchell Roslin, chief of obesity surgery at Lenox Hill Hospital in New York City.
"I see many women who can't conceive because of their obesity, and I think that bariatric surgery can give them an opportunity," Roslin said. "However, after bariatric surgery a woman's first pregnancy is a high-risk pregnancy."
The odds of delivering prematurely after bariatric surgery are still low, however, and should be weighed against the risks obesity poses during pregnancy, the experts suggest.
In the new study, Stephansson and colleagues also found that the risk of moderately preterm birth -- between 32 and 37 weeks' gestation -- was higher after bariatric surgery: 7.3 percent, versus 5.7 percent among moms who hadn't had a weight-loss operation.
However, no significant association was seen between bariatric surgery and very preterm birth (before 32 weeks), the researchers said. These births occurred in 1 percent of both groups.
Because bariatric surgery reduces stomach capacity, it's possible that fetuses aren't getting enough nutrients, said Dr. Mitchell Kramer. He is chairman of obstetrics and gynecology at Northwell Health's Huntington Hospital in Huntington, N.Y.
Kramer agreed that pregnancies after weight-loss surgery are higher-risk, most notably in later pregnancy. "These patients have to be on supplements and we have to monitor them," he said.
Monitoring includes ultrasounds to check fetal development and exams to look for signs of impending early labor, Kramer said.
"Women who have had bariatric surgery who are contemplating pregnancy or are pregnant need to have a conversation with their doctors about the increased risk of preterm birth and what they can do to help lower that risk," Kramer said.
Stephansson said previous studies have shown that bariatric surgery decreases risk of pregnancy complications such as gestational diabetes, preeclampsia and large babies. These benefits should be considered when advising pregnant women and their partners, he added.
The findings were published in a letter in the Aug. 25 issue of the New England Journal of Medicine.
SOURCES: Olof Stephansson, M.D., Ph.D., senior researcher, Karolinska Institute, Stockholm, Sweden; Mitchell Kramer, M.D., chairman, obstetrics and gynecology, Northwell Health's Huntington Hospital, N.Y.; Mitchell Roslin, M.D., chief, obesity surgery, Lenox Hill Hospital, New York City; Aug. 25, 2016, New England Journal of Medicine
HealthDay
Copyright (c) 2016
HealthDay
. All rights reserved.
News stories are provided by HealthDay and do not reflect the views of MedlinePlus, the National Library of Medicine, the National Institutes of Health, the U.S. Department of Health and Human Services, or federal policy.
More Health News on: