Are Stroke Centers Life Savers?: MedlinePlus
Tuesday, July 26, 2016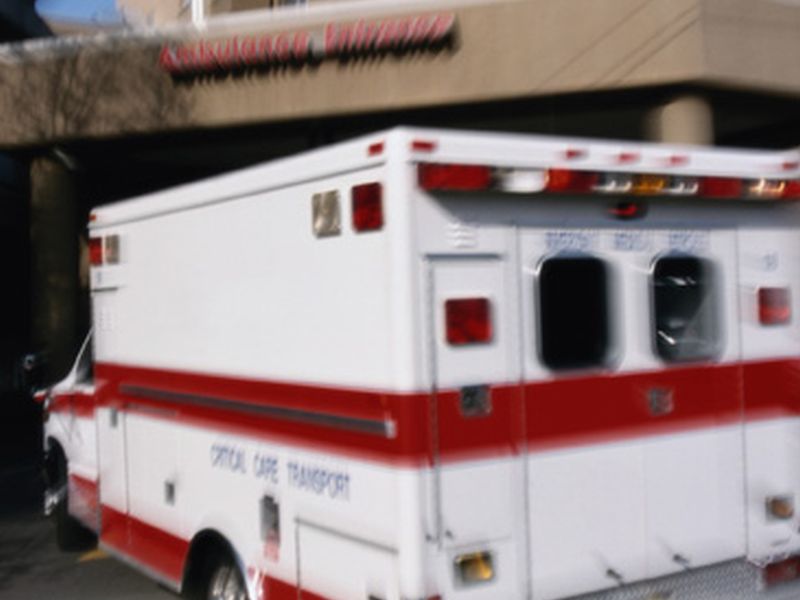 TUESDAY, July 26, 2016 (HealthDay News) -- The odds of surviving a stroke are slightly better for patients treated at hospitals with a specialized stroke department, known as primary stroke centers, a new study finds.
But that benefit was only seen if stroke patients got to a stroke center in less than 90 minutes, the study authors said.
"Treatment of stroke is very time sensitive. As the saying goes, time is brain," said lead researcher Dr. Kimon Bekelis.
"So the faster you intervene, the faster the patient recovers," he said.
Bekelis is an instructor at the Dartmouth Institute for Health Policy and Clinical Practice at Dartmouth-Hitchcock Medical Center in Lebanon, N.H.
Primary stroke centers provide integrated care, including timely administration of medications, such as the clot-busting drug tPA (tissue plasminogen activator, also known as alteplase). They also offer special procedures to reduce the effects of a stroke, Bekelis said.
Many of these treatments are only available at stroke centers or are delivered faster there, which may account for the difference in survival, compared with treatment at a community hospital, he said.
Most Americans live within 90 minutes of a stroke center, but in rural areas the travel time can be longer, Bekelis said. He suggested that to fill this gap, speeding travel time using helicopters might be one way of improving survival.
Dr. Ralph Sacco is chairman of neurology at the University of Miami Miller School of Medicine. He said, "This analysis provides further evidence of the importance of being treated for stroke at a certified primary stroke center, even if it takes up to 90 minutes to get there."
The study only looked at differences in death rates for stroke centers compared to standard hospitals. But, it's likely there are other potential benefits -- such as reduced disability -- for patients treated in certified stroke centers, Sacco suggested.
"Longer delays in getting to a stroke center might lead to decreases in the utilization of acute stroke treatments," he explained.
"We need to consider other approaches, such as the use of telestroke [which puts doctors who are treating a stroke patient in direct contact with a stroke specialist using technology], and increasing the number of stroke-ready hospitals to increase the access of patients to timely stroke care," Sacco said.
For the study, the researchers collected data on nearly 866,000 Medicare patients, average age 79. All had a stroke between 2010 and 2013.
Almost 54 percent of these patients were treated at a stroke center. There are 976 stroke centers in the United States, the report noted.
Twenty-four percent of those in the study lived closer to a stroke center than to another hospital, the investigators found.
The study showed that patients who can get to a stroke center within 90 minutes had a nearly 2 percent higher chance of surviving a stroke after seven and 30 days, compared with patients treated at hospitals without such centers.
Bekelis and his colleagues also found that patients treated at a stroke center were twice as likely to receive tPA -- 6 percent versus nearly 3 percent -- than people treated at a standard hospital.
The report was published online July 25 in JAMA Internal Medicine.
At least one stroke expert expressed concern about sending patients who may not have had a stroke to stroke centers, potentially overwhelming the system.
"It is important to balance the benefit you get by going directly to a stroke center against whether that patient is actually having a stroke, or having a stroke that could be treated as effectively in a community hospital," said Dr. Lee Schwamm. He's vice chairman of the department of neurology at Massachusetts General Hospital in Boston.
It can be difficult to diagnose a stroke in the field, said Schwamm, who wrote an accompanying editorial in the journal.
"We need an understanding of how to improve pre-hospital diagnosis so that EMTs [emergency medical technicians] have the guidance they need to make the right choice," he said. "This might include telephone conferencing with a stroke specialist or a smartphone app."
SOURCES: Kimon Bekelis, M.D., instructor, Dartmouth Institute for Health Policy and Clinical Practice, Dartmouth-Hitchcock Medical Center, Lebanon, N.H.; Lee Schwamm, M.D., vice chairman, department of neurology, Massachusetts General Hospital, Boston; Ralph Sacco, M.D., chairman of neurology, Miller School of Medicine, University of Miami; July 25, 2016, JAMA Internal Medicine, online
HealthDay
Copyright (c) 2016
HealthDay
. All rights reserved.
News stories are provided by HealthDay and do not reflect the views of MedlinePlus, the National Library of Medicine, the National Institutes of Health, the U.S. Department of Health and Human Services, or federal policy.
More Health News on: