International Diabetes Federation Quarterly Newsletter
In this issue
In brief
World Diabetes Congress attracts over 10,300 delegates
The
World Diabetes Congress
is officially the largest medical congress ever held in Australia. From December 2-6, the Congress attracted over 10,300 delegates from 140 nations. Share your Congress experience with the IDF team by sending an email to this
address
. IDF looks forward to seeing you all in Vancouver in 2015.
Read more

Five questions with Dr Petra Wilson, CEO, IDF
IDF welcomed Dr Petra Wilson as its new CEO in November. Fresh back from the World Diabetes Congress in Melbourne, we asked Petra about her hopes for IDF and how her past experiences can help break down barriers and serve people with diabetes.

What was your experience of the World Diabetes Congress in Melbourne?
This was my first World Diabetes Congress and it was a real eye-opener to the power and energy of the global diabetes community. The Congress programme showed the diversity of IDF's stakeholders and highlighted what is important to them.
Celebrities add inspiration & stardust to Congress
Olympic champion, Cathy Freeman and legendary international cricketer, Wasim Akram, added a celebrity touch to the World Diabetes Congress in Melbourne and proved that having diabetes does not stop you living life to the full. Wasim Akram, well respected for his diabetes charity work in his home country of Pakistan and across the world, visited a local Melbourne school to highlight diabetes on the eve of the World Diabetes Congress.
Parliamentarians take up global diabetes challenge
Members of more than 50 Parliaments have committed themselves to tackling the global challenge posed by the surging worldwide diabetes pandemic. The Parliamentarians released the
Melbourne Declaration on Diabetes
at the World Diabetes Congress in Melbourne, Australia.
Read more
IDF guideline addresses shortfalls in diabetes care for older people
A new IDF global guideline to improve management of older people with type 2 diabetes was launched in Melbourne on December 3. According to the guideline, care for many older people with diabetes is currently sub-optimal and fragmented leaving a large proportion of older people with unmet clinical and social needs. The guideline will support clinicians to make age and function-appropriate care decisions and set the standard of care governments and service providers should aim for.
Exploring research solutions to the diabetes epidemic
IDF's Diabetes Atlas and BRIDGES projects were spotlighted at an exceptional symposium during the World Diabetes Congress. The event, chaired by Professor Shaukat Sadikot, President-Elect of IDF, saw international experts present the latest data on the diabetes epidemics worldwide as well as solutions implemented by projects supported by BRIDGES to prevent diabetes and its complications.

IDF focuses on diabetic retinopathy
IDF and the Fred Hollows Foundation have announced a ten year partnership to tackle diabetic retinopathy, one of the most common diabetes complications around the world. The partnership will seek to strengthen work on diabetes retinopathy in the areas of advocacy, workforce, research and technology development.
Read more
New partnership raises awareness of heart disease and diabetes

IDF has launched of a new global effort to quantify the regional and global burden of cardiovascular disease (CVD) in people with diabetes. CVD is one of the most common complications associated with diabetes and is responsible for over one third of all deaths in people with diabetes. This project is supported by a grant from the AstraZeneca/Bristol Myers Squibb Diabetes Alliance.
Read more
Diabetes conversations survey launched
IDF has launched one of the largest multinational surveys to investigate early conversations between physicians and people living with Type 2 Diabetes (T2D). The survey, led by Boehringer Ingelheim and Eli Lilly and Company, was developed in partnership with the International Diabetes Federation (IDF) and will include more than 10,000 people with T2D and more than 6,500 treating-physicians across 26 countries worldwide. It will help to optimise the early conversations between patients and physicians and advance the quality of diabetes care worldwide. You can download the press release
here.
IDF partner raises awareness & money for Life for a Child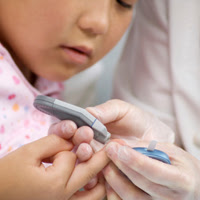 Boehringer Ingelheim, a partner of the International Diabetes Federation will be donating a further €25,000 to the Life for a Child (LFAC) programme. This is the fifth year they have supported the programme. As part of their World Diabetes Day celebrations at headquarters in Ingelheim, employees took part in several activities such as the "Run for Diabetes" to raise €15,000 for LFAC. €10,000 has come from a "Signature Wall" organised at the 49th European Association for the Study of Diabetes (EASD) Annual Meeting in Barcelona in September.
Read more