Wednesday Health.mil News Round-Up: DHA Health IT uses the Internet of Things to monitor health, improve readiness; Military Health System Health Innovations Webinar; 2nd CAB medics use teamwork to thrive
Imagine if a military doctor could know what kind of injury a warfighter had sustained in combat, the severity of the injury, and what kind of surgeon was needed, before the soldier reached the hospital. Advances in health information technology (HIT) and Internet of Things (IoT) technologies are helping to make this a reality.
TRICARE and Military OneSource are co-hosting a webinar to discuss new health innovations developed to enhance the lives of service members and their families. Join us Wednesday, July 8 at noon EST.
Read More ...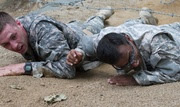 Teamwork stems from trust, and trust is born from a bond that is built through shared experiences and hardships. A hardship can be mental, physical or both. Whether it's climbing over a wall or passing a written test, the hardships a team can face will only make them stronger.
Read More ...