July 21, 2015
By: Sarah Chang, MPH, RD, USDA Center for Nutrition Policy and Promotion
Many people want to do a better job managing their weight but aren't sure how. Whether you're trying to maintain your weight, lose weight, or gain weight it can be challenging to figure out how to get started.
USDA and the National Institutes of Health (NIH) teamed up to bring you a simple new tool that can help you set, reach, and maintain your goal. Using science-based technology, the
NIH Body Weight Planner
calculates how many calories you need to eat and how much exercise you need to achieve a goal weight within a specific time period. You set the goal and decide what timeframe makes sense for you.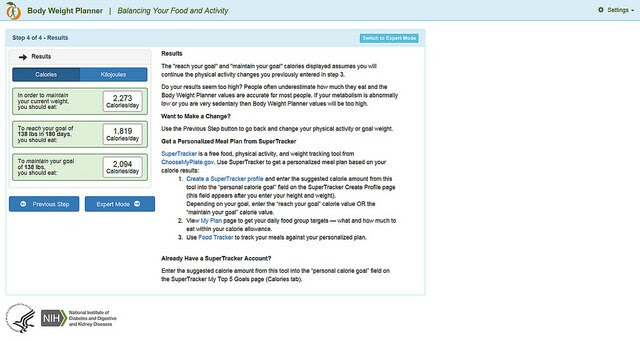 The NIH Body Weight Planner is now available as a goal-setting resource within USDA's
SuperTracker
interactive food, physical activity, and weight tracking tool, so you can create a personalized meal plan based on your Body Weight Planner results.
READ MORE: Reach Your Goal Weight Your Way