Critically ill and nevertheless in the prime of life - Niemann-Pick disease type C community - RareConnect
Critically ill and nevertheless in the prime of life
Mael is ill – critically ill. However, Mael is a completely normal child. A child who has dreams and would simply wants to grow up. This contrast has overshadowed our family life since the diagnosis four years ago. Walking the tightrope between normality and a daily ordeal is extremely challenging. The only thing that helps with this this enormous strain is the hope for a medical break-through and that Mael remains with us for a long time.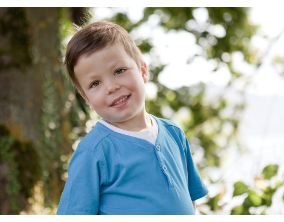 Our six year old Mael sits on the floor in the house and plays. Together with its four-year-old brother Lian, he feeds animals in the Playmobil zoo. Their youngest sibling plays beside them: Nevin, two and a half years old. However, this apparently idyllic family picture is overshadowed. In November 2009 we were given the news that our son Mael suffers from a very rare and incurable hereditary disease Niemann pick C suffers. The mean life expectancy with this condition lies between 10 and 20 years.
Early-stage diagnosis

For Mael, the diagnosis was relatively early due to his highly enlarged spleen. Looked at this way, a stroke of luck. An early diagnosis first of all gives parents clarity and secondly the possibility to react. However, it does not make life simpler. Because Mael is still an apparently healthy child and has plans and dreams, which will probably never be fulfilled. The condition is already visible now and it will progress. Slowly but surely. Mael is an affable and happy boy – his world is (still) alright. He does notice that he is somewhat slower, that he is quickly fatigued and cannot keep up with his playmates and his brothers in terms of fine and gross motor skills. But he does not know that he has a fatal condition and sooner or later will no longer be able to run, speak, think, to eat or swallow. We as his parents constantly live with an internal turmoil and the anxious feeling that Mael will forget everything that he does now with pleasure and pride. The time he has now should therefore be as pleasant as possible. We want to be strong for him. But we also do not give up hope in being able to spend as long with him as possible and for a medical miracle. And this is what we fight for.
Supporting and keeping Mael stable

For three years, Mael has received the only drug currently available that could to slow the progress of the illness with the help of the IV. Three times a day he swallows one of the expensive pills – in order to become big and strong, as he sees it. The drug appears to be helping. We do not see the regression that would be expected with a natural course of the illness. That alone is already a success. The drug is currently his only chance and the only hope that we have. Together with the drug treatment we try to keep Mael as active as possible. He goes soon to school, ergotherapy and physiotherapy, and from time to time he can ride a pony. We have great hopes in a drug study that started in the USA in January last year. Mael would be a suitable candidate for the second phase of the study, which is also to be carried out in Europe. We are now trying to do all we can to enable Mael to participate in this study. This drug would not be a cure either, but offers an additional chance of a better and longer life.
Living in the now

A great deal – or indirectly probably nearly everything – in our life revolves around our critically ill child. We do all we can in order to be there for Mael, and look to the future, in spite of pain and anxiety – even if that is not always easy. We gain a lot of strength and confidence from our children, particularly from our two healthy boys. Life goes on, even if not as before. We have learned as parents from this heavy blow of fate. We live now – not in the past and not in the future. Our happy children are the most precious thing we have. For all of them, we remain hopeful that perhaps Mael nevertheless has a future and will remain with us for a long time, enriching all of our lives.