Progress on malaria vaccines | National Institutes of Health (NIH)

Progress on malaria vaccines
At a Glance
Experimental vaccines against malaria are progressing on several fronts.
Scientists hope to build on these new findings to create a vaccine to protect people against a variety of malaria parasites.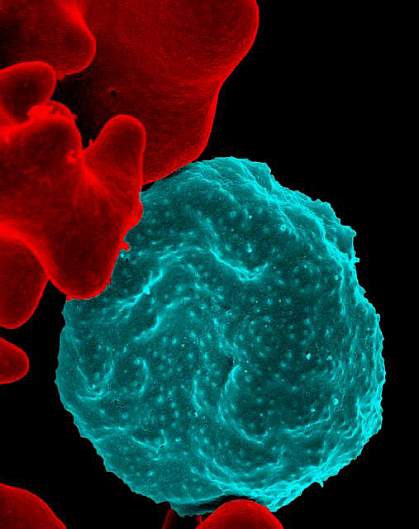 NIAID
Researchers have been working to develop a vaccine that provides long-term, reliable protection against malaria. The disease affects more than 200 million people worldwide and kills hundreds of thousands, mostly young African children. Although only 1,500 to 2,000 cases of malaria are diagnosed in the United States each year, the disease is a serious concern for international travelers, including aid workers and military personnel.
Malaria can be caused by 5 species of parasites. The most lethal is Plasmodium falciparum. When infected mosquitoes bite, they inject parasites into the bloodstream. The parasites travel to the liver, where they multiply. Parasites then reenter the bloodstream and spread throughout the body.
One promising malaria vaccine candidate is the PfSPZ Vaccine. It was developed and produced by Sanaria Inc. of Rockville, Maryland, with support from NIH's National Institute of Allergy and Infectious Diseases (NIAID). The experimental vaccine is made of live but weakened
P. falciparum
.
Earlier research
found that the vaccine was safe and protected healthy U.S. adults who hadn't been previously exposed to malaria.
Investigators further assessed safety and studied whether the vaccine could protect adults against naturally occurring malaria infection in a rural village in Mali, Africa. Healthy men and non-pregnant women, aged 18 to 35 years old, received 5 doses of the intravenous PfSPZ Vaccine or a placebo (saline) over 5 months during the dry season. Results appeared online on February 16, 2017, in Lancet Infectious Diseases.
Of the 41 people who received the PfSPZ Vaccine, 27 (66%) developed P. falciparum malaria infections, compared to 37 of 40 (93%) who received the placebo. Blood tests also showed a significant immune response in the vaccine group compared with the placebo group. However, the people in this study had a lower immune response to the vaccine than those in the U.S. trial. Previous exposure to the parasite might explain the lower responses among the Mali villagers.
The vaccine caused no serious side effects. In addition, delivering the vaccine intravenously didn't pose a problem in the rural, malaria-endemic study site. Further trials are now underway in Africa, Europe, and the United States.
Another study of the PfSPZ Vaccine, conducted at the NIH Clinical Center, showed that the vaccine protected many recipients not only from the same strain of P. falciparum used to make the vaccine, but also from a different strain. Those results appeared online on February 21, 2017, in Proceedings of the National Academy of Sciences. The vaccine dose used in the study was around 3 times higher than that used in the Mali study but was shown to be safe and well tolerated. Based on these data, a clinical trial testing 3 different dosages of the PfSPZ Vaccine is now underway in infants in Western Kenya.
A different experimental malaria vaccine strategy, known as PfSPZ-CVac, was tested in another NIAID-supported study. Also developed by Sanaria Inc. with support from NIAID, this vaccine introduces live P. falciparum parasites into the bloodstream. Recipients take antimalarial medication (chloroquine) to prevent an actual malaria infection. This approach protected all 9 clinical trial participants who received 3 high-dose vaccinations. The results were published on February 23, 2017, in Nature. Clinical trials of PfSPZ-CVac to determine the optimal dose and schedule for protection in malaria-endemic areas are now planned.
"Considerable progress has been made in the global fight against malaria within the past decade, yet far too many people—particularly young African children—continue to become infected and die from the disease," says NIAID Director Dr. Anthony S. Fauci. "A safe, effective vaccine to protect against this mosquito-borne illness would greatly help efforts to bring the disease under control."
Related Links
References:
Safety and efficacy of PfSPZ Vaccine against Plasmodium falciparum via direct venous inoculation in healthy malaria-exposed adults in Mali: a randomised, double-blind phase 1 trial.
Sissoko MS, Healy SA, Katile A, Omaswa F, Zaidi I, Gabriel EE, Kamate B, Samake Y, Guindo MA, Dolo A, Niangaly A, Niaré K, Zeguime A, Sissoko K, Diallo H, Thera I, Ding K, Fay MP, O'Connell EM, Nutman TB, Wong-Madden S, Murshedkar T, Ruben AJ, Li M, Abebe Y, Manoj A, Gunasekera A, Chakravarty S, Sim BK, Billingsley PF, James ER, Walther M, Richie TL, Hoffman SL, Doumbo O, Duffy PE.
Lancet Infect Dis.
2017 Feb 16. pii: S1473-3099(17)30104-4. doi: 10.1016/S1473-3099(17)30104-4. [Epub ahead of print]. PMID: 28216244.
Attenuated PfSPZ Vaccine induces strain-transcending T cells and durable protection against heterologous controlled human malaria infection.
Lyke KE, Ishizuka AS, Berry AA, Chakravarty S, DeZure A, Enama ME, James ER, Billingsley PF, Gunasekera A, Manoj A, Li M, Ruben AJ, Li T, Eappen AG, Stafford RE, Kc N, Murshedkar T, Mendoza FH, Gordon IJ, Zephir KL, Holman LA, Plummer SH, Hendel CS, Novik L, Costner PJ, Saunders JG, Berkowitz NM, Flynn BJ, Nason MC, Garver LS, Laurens MB, Plowe CV, Richie TL, Graham BS, Roederer M, Sim BK, Ledgerwood JE, Hoffman SL, Seder RA.
Proc Natl Acad Sci U S A
. 2017 Feb 21. pii: 201615324. doi: 10.1073/pnas.1615324114. [Epub ahead of print]. PMID: 28223498.
Sterile protection against human malaria by chemoattenuated PfSPZ vaccine.
Mordmüller B, Surat G, Lagler H, Chakravarty S, Ishizuka AS, Lalremruata A, Gmeiner M, Campo JJ, Esen M, Ruben AJ, Held J, Calle CL, Mengue JB, Gebru T, Ibáñez J, Sulyok M, James ER, Billingsley PF, Natasha KC, Manoj A, Murshedkar T, Gunasekera A, Eappen AG, Li T, Stafford RE, Li M, Felgner PL, Seder RA, Richie TL, Sim BK, Hoffman SL, Kremsner PG.
Nature
. 2017 Feb 23;542(7642):445-449. doi: 10.1038/nature21060. Epub 2017 Feb 15. PMID: 28199305.
Funding:
NIH's National Institute of Allergy and Infectious Diseases (NIAID) and Clinical Center (CC); Sanaria Inc., German Federal Ministry of Education and Research (BMBF), and Bill & Melinda Gates Foundation.