Pregnancy May Boost Stroke Risk in Younger Women: Study: MedlinePlus Health News
Pregnancy May Boost Stroke Risk in Younger Women: Study
But absolute risk is very small; researchers not sure of reasons why
Monday, October 24, 2016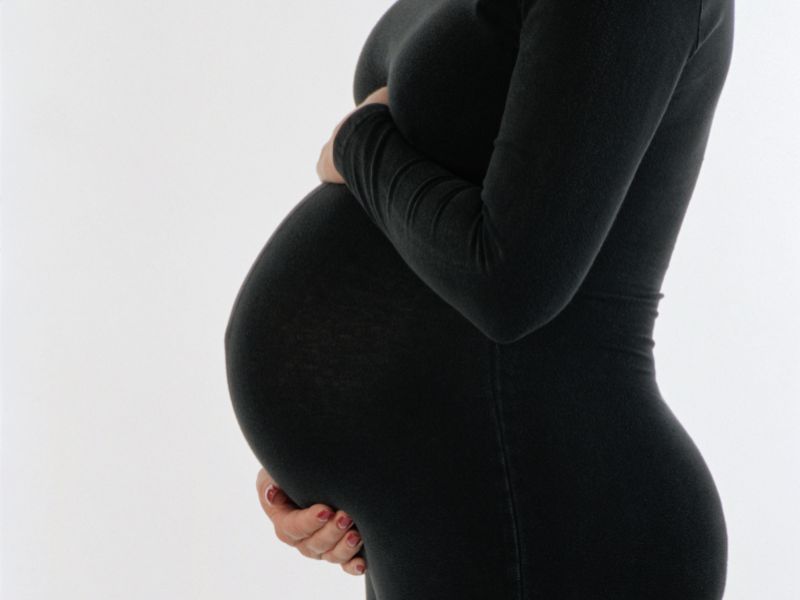 MONDAY, Oct. 24, 2016 (HealthDay News) -- Pregnancy may raise the risk of stroke in younger women, when compared to their non-pregnant peers, a new study suggests.
While the overall risk in younger women is very small, it seems to rise during and after pregnancy, according to the study authors.
It's not clear why the risk seems to exist, although the researchers said pre-eclampsia -- which is dangerously high blood pressure during pregnancy -- may play a role.
"We should be cautious about reading too much into these results," said study author Dr. Eliza Miller, a vascular neurology fellow with New York-Presbyterian Hospital/Columbia University Medical Center in New York City.
Still, "one in five strokes in women under the age of 35 in our study were related to pregnancy, while it was more like one in 100 in the 35-and-older crowd," she said.
How do pregnancy and its aftermath seem to affect the risk of stroke in women?
"We know from multiple studies that pregnancy, especially the third trimester and the postpartum period, is a time of increased stroke risk for women of childbearing age," Miller said. "It's still a rare event, about 34 per 100,000 deliveries.
"But for perspective, that's more than four times higher than the incidence of cervical cancer, another terrible disease affecting women in this age group," she added.
According to Miller, there are many unanswered questions that prevent physicians from understanding who's most at risk.
"We don't have good ways of predicting who might have one [a stroke]," but there's evidence that the numbers of these strokes are increasing, she said.
In the new study, the researchers studied statistics on women who had strokes and similar attacks in New York state from 2003-2012. The researchers found more than 19,000 cases of females aged 12-55 hospitalized with stroke, including nearly 800 that occurred during pregnancy or within six weeks of delivery.
The overall incidence of pregnancy-associated stroke was higher in older women, about 47 per 100,000 deliveries in the oldest group [ages 45-55], versus 14 per 100,000 deliveries in the youngest group [ages 12-24], Miller said.
However, statistical analysis showed that when these women were compared to their age-matched peers who were not pregnant, "pregnancy increased stroke risk significantly in women under 35, but did not appear to increase stroke risk in women over 35. In the youngest group, ages 12 to 24, pregnancy was associated with more than double the risk of stroke. And in the 25-to-34 age group, pregnancy was associated with a 60 percent increased risk of stroke. In women 35 and older, pregnancy did not appear to increase stroke risk," Miller said.
Could younger pregnant women be having more strokes than their non-pregnant peers because they're at higher risk due to worse health? The numbers suggest otherwise.
"Women who had pregnancy-related strokes tended to have fewer traditional stroke risk factors like high blood pressure and diabetes, compared to same-aged women with non-pregnancy-related strokes," Miller said.
The good news, Miller said, is that strokes are still rare, even in pregnant women.
According to Miller, 51 women died of pregnancy-associated strokes out of 3.8 million deliveries.
Why might pregnancy boost the risk of stroke?
"Pregnancy leads to an increase in the tendency for blood to clot so that when women deliver, they don't bleed to death," explained Dr. Cheryl Bushnell. She directs the Wake Forest Baptist Stroke Center in Winston-Salem, N.C.
"It appears that the most significant risk for stroke generally occurs at delivery or right afterward because of the shifts in blood flow going from the pregnant to the post-pregnancy state, as well as the increased tendency for blood clots," Bushnell said.
Study author Miller said hormone levels also change in relation to childbirth, increasing the risks of some kinds of stroke. And pre-eclampsia, which causes dangerously high blood pressure in about one in 20 pregnancies, boosts the risk, she said.
"About a third of the women in our study who had pregnancy-associated strokes had pre-eclampsia," she said.
It's not clear why older women may be at lower risk, but Miller said they may be healthier on the whole than non-pregnant women their age who have strokes. "But that doesn't really explain why pregnancy would double the risk of stroke in young women," she said.
What should women do?
"It's fair to say to a healthy woman who is contemplating a pregnancy at age 40 and who is worrying about stroke that her risk of stroke is probably not going to be any different if she gets pregnant or not," Miller said.
"And I think that doctors should be aware that very young women may be at higher risk, particularly if they have pre-eclampsia, and maybe should be watched a little closer in the weeks after they give birth," she said.
Bushnell advised pregnant women and those around them, including children, to understand stroke signs and symptoms and call 911 if they see them.
"Stroke symptoms can include drooping of the face, weakness or numbness of the arm or leg, difficulty speaking, or the worst headache of her life," she said.
The study was published Oct. 24 in the journal JAMA Neurology.
SOURCES: Eliza Miller, M.D., vascular neurology fellow, New York-Presbyterian Hospital/Columbia University Medical Center, New York City; Cheryl Bushnell, M.D., MHS, professor, neurology, and director, Wake Forest Baptist Stroke Center, Winston-Salem, N.C.; Oct. 24, 2016, JAMA Neurology
HealthDay
Copyright (c) 2016
HealthDay
. All rights reserved.
News stories are provided by HealthDay and do not reflect the views of MedlinePlus, the National Library of Medicine, the National Institutes of Health, the U.S. Department of Health and Human Services, or federal policy.