Teens and Their Phones: What You Should Know: MedlinePlus Health News
Thursday, December 28, 2017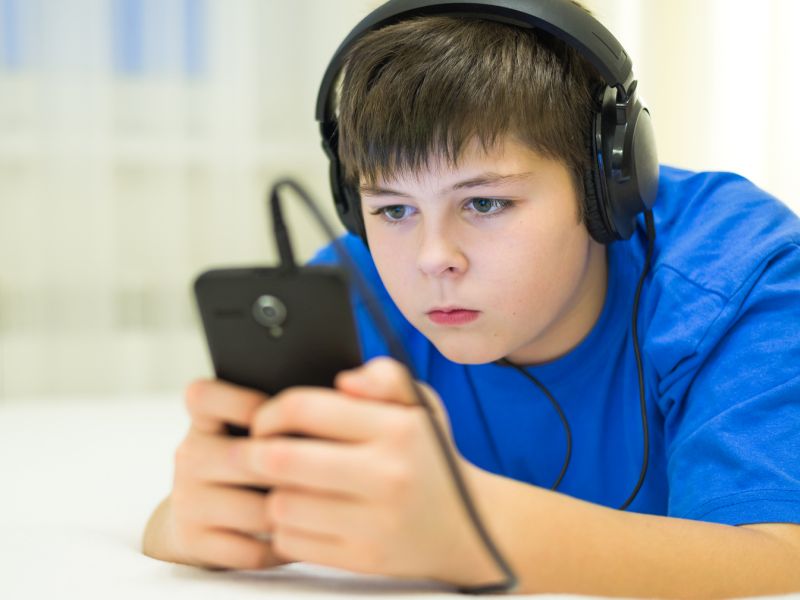 THURSDAY, Dec. 28, 2018 (HealthDay News) -- In a world full of digitally charged teens, it would be unlikely to expect parents to cut their children off from smartphone use completely.
"Social media is a regular part of teens' everyday lives and an important part of their individual and social development," said Jenna Glover, director of psychology training for Children's Hospital Colorado.
It's also part of many parents' worries about the effect all this phone time might be having on their kids.
A 2015 study by the Pew Research Center found that 88 percent of teenagers ages 13 to 17 have or have access to a cellphone, and 91 percent of teens go online from a mobile device at least occasionally.
"I have not worked with any parents who do not allow their teens to have access to a phone," said Denise Berotti Tuckruskye, a clinical psychologist at the Developmental Disabilities Institute in Ronkonkoma, N.Y. "It seems all parents appreciate that phones allow teens to contact them easily if there are any problems."
So, what's a parent to do?
First, experts suggest that parents stress the use of smartphones and social media in moderation. Beyond that, there are tactics parents can use to moderate their teens' phone use without cutting them off from the digital world entirely.
For instance, "some families I work with restrict phone use until their child's homework is done," Tuckruskye said.
Another option is so-called "interval training," suggested Sandra Bond Chapman, a cognitive neuroscientist who directs the Center for BrainHealth at the University of Texas in Dallas.
For this, teens would spend 30 minutes doing homework without any disruption and then 30 minutes where they're allowed to check their phones.
Also, Tuckruskye said that "most kids at minimal need to hand in their phones before bed to avoid loss of sleep."
Left to their own devices, young adults are likely to use their phone in bed and keep it close to them while sleeping, according to analysis of a National Sleep Foundation survey, published in 2013 in the Journal of Clinical Sleep Medicine. Research has shown that this can lead to sleep problems.
A study published in JAMA Pediatrics in December 2016 found "strong and consistent evidence of an association between the access to or the use of devices and reduced sleep quality, as well as daytime sleepiness."
Experts also generally suggest that parents set time limits for phone use.
"Teens should have specific times a day where they have access to their social media accounts, but also tech-free time at home," Glover said.
Others, however, contend that how much time teens spend on their phones is less important than the effect phones are having on the youths.
A recent study from the University of Michigan found that the way children use their devices was a stronger predictor of emotional or social problems tied to screen addiction.
"What matters most is whether screen use causes problems in other areas of life or has become an all-consuming activity," said lead author Sarah Domoff in a university news release. She is now an assistant professor of psychology at Central Michigan University.
For instance, does screen time interfere with daily activities? Does it cause family conflicts? Has it become the only activity the teen seems to enjoy?
Those are just a few of the ways unhealthy use of phones and similar devices can lead to problems with relationships or conduct and with other emotional symptoms, Domoff said.
The study was published online Nov. 17 in the journal Psychology of Popular Media Culture
The bottom line for parents? Chapman said a dialogue on the dangers of overusing social media and cellphones should be ongoing between parents and teens.
SOURCES: Denise Berotti Tuckruskye, Ph.D., clinical psychologist, Developmental Disabilities Institute, Ronkonkoma, N.Y.; Jenna Glover, Ph.D., director, psychology training, Children's Hospital Colorado, Aurora; Sandra Bond Chapman, Ph.D., director, Center for BrainHealth, University of Texas, Dallas; Pew Research Center, report, April 9, 2015; Journal of Clinical Sleep Medicine, Dec. 15, 2013; JAMA Pediatrics, December 2016; University of Michigan, news release, Dec. 1, 2017
HealthDay
Copyright (c) 2017
HealthDay
. All rights reserved.
News stories are written and provided by HealthDay and do not reflect federal policy, the views of MedlinePlus, the National Library of Medicine, the National Institutes of Health, or the U.S. Department of Health and Human Services.
More Health News on