Etymologia: Parvovirus - Volume 24, Number 2—February 2018 - Emerging Infectious Disease journal - CDC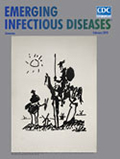 Volume 24, Number 2—February 2018
Etymologia
Etymologia: Parvovirus
Viruses of the family
Parvoviridae
(Latin
parvum
[meaning small or tiny]) are among the smallest viruses described, 18–28 nm in diameter (
Figure
). There are 2 subfamilies of the family
Parvoviridae
:
Parvovirinae
and
Densovirina
(Latin
denso
[thick or compact]).
Parvovirinae
may infect humans, but
Densovirina
infect only arthropods (
1
). Structurally, these viruses are nonenveloped, icosahedral viruses that contain a single-stranded linear DNA genome (
2
,
3
).
The small size of these viruses might account for their late discovery. In 1974, the first pathogenic human parvovirus was discovered and named B19 from the coding of a serum sample, number 19 in panel B, that gave anomalous results during testing for hepatitis B (
4
). Although human B19 infections are more often asymptomatic or lead to mild rash illnesses and arthralgias, they can also cause severe anemia in fetuses and in persons with underlying hemoglobinopathies (
5
).
References
Figure
Cite This Article