Deborah - Cobb syndrome community - RareConnect
RARECONNECT
Deborah

In 2011, I lost the ability to walk without assistance. A nearly- four hour MRI showed that I had an extremely rare spinal tumor that was obstructing my spinal cord.


Written by

monkeymoo

, published 16 days ago.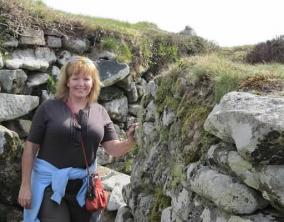 I was airlifted to the Mayo Clinic where I underwent a 12-hour laminectomy to remove the dorsal (back) part of my tumor. It was there I was diagnosed with Cobb syndrome. In addition to my spinal tumor (that extends into my chest cavity), they found I have a tumor in the right temporal lobe of my brain. I have a third angiolipoma tumor that spans the area of my neck and back just under the skin and is about an inch or more thick. I have a very dark red portwine stain birthmark over the upper right third of my body, including my neck and spine, which is part of what led the doctors to suspect Cobb syndrome as it's one of the markers for the disorder. In a matter of months, I'd gone from a self-employed independent woman to an extremely disabled person unable to work or care for herself anymore. Without money coming in, I lost my house, my car, almost all of my belongings were either sold or pawned to pay bills and healthcare costs. My credit was destroyed and I was forced to file for bankruptcy. I fought for two years to get disability benefits, which I now receive, but they're not enough to support myself without help. I have intense, chronic pain each day that keeps me from undertaking most activities except those that are absolutely necessary. I'm continuing to work with doctors to find solutions that will help me to live the best possible life, but it's admittedly very hard. I hope that by sharing my story and participating in this support group, I can help others who might have questions and are seeking support to get through their journey. I don't have the "typical" (if there is one) case of Cobb syndrome, but I know what spinal stenosis feels like and how tumors can interfere with your life, even when benign! I was an adult when my symptoms started, so if there are other adults with questions or who just want to talk, please feel free to get in touch and I'll be happy to share more of my experiences with you and answer any questions you may have. For those with children who have Cobb syndrome, please feel free to get in touch as well, though I might not be as able to answer your particular questions as another parent might be. Having Cobb syndrome is hard. Having it and being completely alone with it is worse. I hope that I can help others by sharing my story.