Angelica - Apert Syndrome (AS) community - RareConnect
RARECONNECT
Online Communities for Rare Disease Patients
Hi, I'm Angelica and I have Apert Syndrome … and it has evolved into an ultimate blessing
Angelica
Hi, I am Angelica and I have Apert Syndrome that evolved into an ultimate blessing.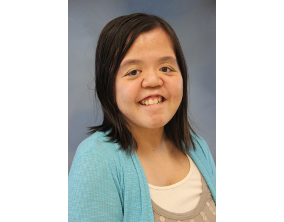 My mom didn't know that she was pregnant with me until she was at her 4th month. All throughout her pregnancy, she didn't know that I was going to have Apert Syndrome- the fact that she was going to have another child was a delightful surprise itself. She first saw and found out something was different when she first saw me. My brother and sister who was 9 years old at that time and my brother Michael's first comment was: "What's wrong with her?" my mom didn't know what to answer then. But before you know it, they were loving me more than ever. Their ultimate act of true love was instilling the decision to raise me as they would with any other children-with love, respect and freedom to choose, to be taught and to be challenged-ultimately growing stronger from those challenges. They didn't shelter me from anything, they taught me the truth and the world of personal kindness and understanding; they supported me in everything that I wanted to do-that was of good intent.
Preschool was quite an adventure, I still remember the first day of school. I was often lagging behind in projects and didn't put as much quality as I would now. But it was pretty fun, my fellow classmates were nice. In terms of schooling after preschool, there was one distinct challenge. Keep in mind this was still in the Philippines. Only one took me in; a private catholic school that houses kindergarteners to college students. None of the other schools would accept a child with Apert Syndrome because they undermined my mental health and judged me to be belonging in a mental institution. My parents cried over that, but I didn't know about it then. Now at 22 and excelling at Brigham Young University-Idaho, the figurative world has changed. I wasn't in any special education programs then- probably because they didn't really have any. But I was involved in extracurricular activities such as the ones mentioned above-along with art clubs. That went with me as my family moved to California. I ended in 5th grade in the Philippines but when I transferred to the American education system, I started all the way in 3rd grade but I wouldn't ever regret it-for I loved and cherished every minute of it. The class that I was going into made a whole "Welcome Angelica" Day. Each of the students came up and hugged me; giving me their card along the way. Jennifer and Josh gave me a tour of the school. The lunch court supervisor personally introduced herself and offered her services of opening my lunches and helping me with anything I need help with. Mike Hardos, Mrs. Ross and Diane Lloy were my first IEP representatives and they were angels! They helped me with projects, assignments and improving my speech. The problem points were in the math department-but the 3 angels never gave up and walked with me the whole way.
Middle School was quite a change. I didn't have a problem in the social department, as I discovered friends that shared the presence of IEP in their lives. It was where I met my best friend Nami  and other close friends . I still had problems with deadlines though. But that improved in high school and college. High school was major involvement and major enjoyment. I was in student senate, 6 clubs and the Homecoming Game Half-time show during my senior year. In terms of the receiving of the student body towards me, since I didn't make a big deal out of it and I established a no special treatment with myself, they followed suit. That establishment pretty much went with everyone I associated with. I didn't feel bad for myself or didn't believe in the disability can limit clause, so they didn't either.
There was this one instance with my iep team right during my 17th year, they had already planned for me to go to saddleback college then some kind of transitional program for special ed kids. That didn't go right with me because they were gripping on my future. So, I went ahead and drove my own college preparation course and path; applied to BYU-Idaho and received a fair (no special bias) admission into their university program. I finished high school with a fair earned diploma (K-12 mainstream) and went to Idaho in the Winter (I'm winter/spring semester basically). I am now in my Sophunior year (between Sophomore and Junior in terms of credits and hours) studying Humanities/Business Administration with a cluster in Communications. My involvement tradition continued strong with Student Cultural Associations, Ambassadors and now Student Alumni Association. It's a tender mercy treasure.
Latest Apert Syndrome (AS) Community Activity